Safe Load: The Evolution of Modern Deck Equipment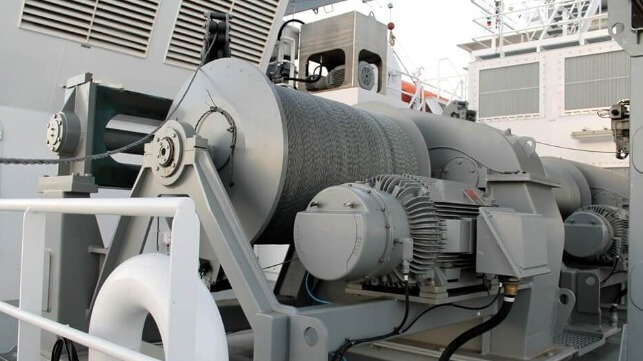 (Article originally published in Sept/Oct 2023 edition.)
Evolving from the labor-intensive manual equipment of centuries past, deck equipment has been transformed through technology and innovation. Today's clean and powerful equipment packages improve safety and efficiency while integrating directly with the vessels on which they are installed.
The evolution of deck equipment in the maritime industry parallels significant milestones across the sector with advancements in materials, automation, safety and efficiency. Today, the industry's most complex challenges are related to designing eco-friendly, energy-efficient and technologically advanced equipment. Deck equipment is no exception.
Stricter regulations and a growing emphasis on sustainability add complexity to an already convoluted market. Current trends toward increased automation, digitalization and integration require leading manufacturers like Cimolai Technology, Markey Machine, Timberland Equipment and Schoellhorn-Albrecht Machine to invest in research and development, focusing on innovative product offerings and exploring unique applications for both existing and emerging markets.
Deck machinery encompasses a diverse array of equipment from towering cranes to incredibly powerful tuggers and winches, monster boat lifts, and more – equipment as varied as the maritime activities to which it can be applied. Compared to many other technical innovations in the marine industry, this type of equipment is often overlooked.
Early Versions
To appreciate the evolution of this gear through history, some context is essential.
The earliest versions of deck equipment were comprised of the rudimentary winches, capstans and cranes used on early sailing vessels. Far from the precision and power offered by today's equipment, these manual devices were rarely more than simple lever-and-pulley systems most often operated by sheer human muscle.
The Industrial Revolution brought significant changes across trades as steam power became the motive force for industry. Alongside the switch from sails to steam for propulsion, steam winches and capstans revolutionized cargo handling and made vessels safer and more efficient.
These early mechanisms were still relatively crude compared to subsequent innovations as hydraulic systems became the backbone of deck equipment on board commercial vessels. These systems provided high levels of power while improving precision and control. Companies have excelled in designing and manufacturing hydraulic winches and cranes tailored to meet the specific needs of various industries including offshore oil and gas, shipping and naval operations.
Electric-Drive Systems
Today, however, even this evolution in power is starting to give way to a new motivating power as electric drive systems gain in popularity. Due to their efficiency and reduced environmental impact, electric drives are replacing hydraulic power across the array of deck equipment.
Timberland Equipment, a custom deck equipment manufacturer, is leading the way in this transition by employing a specialized group within its organization. The company's various divisions have put considerable focus on converting existing gas or diesel equipment into all-electric drives. This has led the company to develop electric equipment with greatly improved safety, efficiency and control through the use of modern PLCs (programmable logic controllers) and variable frequency drives.
Timberland is likewise involved in new products and services across industries. Aaron VanMaanen, General Sales Manager, credits the company's broad client base for expanding its offerings, particularly in the environmental space: "We've been involved in supporting many various industries and initiatives, allowing us to become heavily involved in green energy solutions."
Other manufacturers – like Markey Machine, a leading producer of specialized deck equipment – are leading the charge with advances in new designs. A significant increase in demand for electric deck machinery has resulted in unique product offerings. Markey's Electric Escort/Ship-Assist winches offer not only advanced electric-drive systems but also include added benefits like regenerative braking and redundant drives for increased reliability. Several substantial orders in 2023 from leading tugboat operators across the U.S. reflect the growing demand for these new products.
The overall cost of innovation in the maritime sector can be high with increased costs for some new equipment pushing 400 percent. however, the risks of not evolving with demands from the industry can be far greater. "The regulatory and reputational costs associated with a broken hose leaking oil into the harbor are just too significant not to evolve," says Blaine Dempke, Markey's CEO.
The demand for electric equipment is not just on board but also shoreside. Cimolai Technology out of Italy is well known for its mobile boat hoists. With a market focusing more heavily on electric versions of traditional shipyard offerings, Cimolai has responded with new innovations of its own including fully electric models of its mobile boat hoist (MBH), ranging in lifting capability from 30 tons to a 1,500-ton beast due for delivery to Hyak Maritime in Oregon in late 2024.
Eco-Friendly Solutions
The maritime industry as a whole is increasingly focused on sustainability, efficiency and a reduced environmental impact. Deck equipment manufacturers are contributing to a greener maritime sector in their own space, exploring eco-friendly solutions with innovative designs and materials. Lessons from the past underscore the critical need to prioritize safety, sustainability and efficiency in the design and use of deck equipment.
With a holistic approach to reducing energy consumption and emissions across the entire vessel, industry leaders like Schoellhorn-Albrecht Machine Co. are leveraging centuries of expertise toward improved environmental protection alongside increased reliability, efficiency and, of course, personnel safety. Being able to custom-build not just the equipment itself but also the power packs and control installations, Schoellhorn-Albrecht can ensure that all equipment is working as designed for each unique application, regardless of the client.
That includes government agencies. The company recently completed a contract with the U.S. Army Corps of Engineers to design and manufacture the replacement dredge head hoist for the dredge Jadwin. The winch is designed for continuous use during the dredging season, providing a maximum output torque of 27,000 foot-pounds via a 367-horsepower DC motor and utilizing a pneumatically actuated drag brake system.
Automation has transformed the way deck equipment is operated. Wireless technology has made its way into deck equipment controls, improving flexibility and safety. Modern systems often include remote control capabilities, allowing operators to perform tasks from a safe distance and even remotely.
Wireless remote controls have become standard features in many winches, tuggers and capstans. These systems enhance operator mobility and reduce the risk of accidents during deck operations.
New Markets
As the marine industry explores new markets like offshore wind and other sectors, one of the major impacts that affect deck equipment is the request for winches with greater speed and line pull capabilities. The advent of electric motors allows for more flexibility with regards to footprint and weight as well as the capability of "smart' winches with automatic controls and variable programming.
"As vessels are required to do more and more, the equipment needed also often needs to grow in size and complexity," says Timberland's VanMaanen.
The continued construction of LNG terminals likewise creates a demand for specialized escort tugs equipped with appropriate escort winches. As wind, LNG and other new markets become a part of the industry's new reality, analysts have noted a languishing supply of conventional tugs equipped with wire-rope towing winches.
Manufacturers have seen a subsequent uptick in demand for equipment to serve this need. Markey has introduced advanced control systems that enhance precision and safety during these specialized towing and mooring operations including a full line of winches with motion-compensation.
Markey's Dempke is proud of his company's progress and innovation. Like VanMaanen, Dempke gives much of the credit to his customers: "Our philosophy is simply to follow our customers and let them take us where we need to go and where the industry's needs lie. Being open to these ideas and requests is key to continued growth."
Leading the Way
The wide variety of deck equipment has, by necessity and opportunity, evolved considerably from the manual, labor-intensive, block-and-tackle systems of the past. Modern technology and innovative engineering have transformed these essential components into powerful, efficient and environmentally sound tools.
Innovators in the manufacturing realm continue to drive progress in the maritime industry, ensuring that vessels and shipyards are equipped with the best tools for safe and efficient operations. In many instances, pioneering deck equipment manufacturers introduce advances in the industry ahead of other sectors.
As the industry continues to evolve, we can expect even more advances that will further enhance the capabilities of this equipment, contributing to the continued growth and success of the maritime sector. Markey, Cimolai, Timberland, Schoellhorn-Albrecht and other industry leaders are steering the course of innovation in this industry, prioritizing safety, sustainability and technological advancements.
As technology progresses, these companies will play a pivotal role in charting its future course, leveraging their history and expertise to navigate change. By contributing to a more sustainable and technologically advanced maritime future, they'll help ensure safe, efficient and environmentally responsible operations both at sea and on shore.
Chad Fuhrmann is a maritime consultant and owner of Revolution Consulting X Engineering.
The opinions expressed herein are the author's and not necessarily those of The Maritime Executive.