High Volume, Low Revenue
It's a typical year for salvors as the absence of major incidents impacts revenue and profits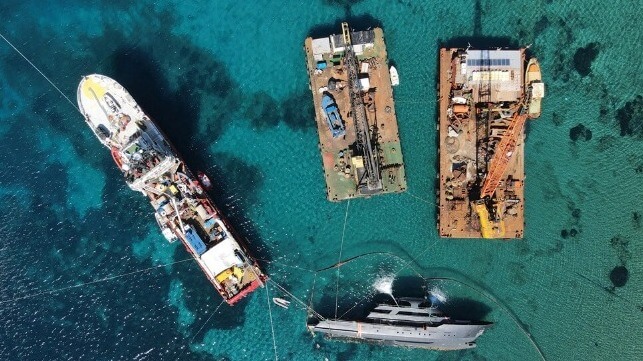 (Article originally published in Sept/Oct 2023 edition.)
The marine salvage industry is tough, resilient and characterized by resourcefulness and ingenuity. Salvors themselves are a highly skilled and enthusiastic workforce.
But the past few years have been trying. The International Salvage Union reports that 2022 was one of the worst on record in terms of revenue, and 2023 doesn't look any better. While there's been plenty of activity, there's been nothing on the scale of the Costa Concordia or Golden Ray.
Originally, the salvage business meant lightering and wreck removal. The typical salvage company provided a variety of marine services like tug assist and commercial diving until a vessel required refloating, usually resulting from a natural disaster or major casualty.
That was the standard business model until 1990 when the Exxon Valdez spill introduced the marine world to the OPA 90 era. Now, when we talk about marine salvage, it's composed of two core components, emergency response and wreck removal, with emergency response including firefighting, spill response and lightering/refloating.
In general, the larger companies provide both components while the more regional companies mirror the original business. Here's a look at some of the best.
Donjon and Donjon-SMIT
Houston is home to Donjon-SMIT. The joint venture between U.S. heavyweight Donjon Marine and SMIT, the salvage component of Dutch giant Boskalis, focuses on 24/7 global emergency response and providing customers with OPA 90-compliant coverage.
This past year's responses included towing a grounded vessel up the Atchafalaya River to Morgan City, Louisiana; arranging tugs for a grounded tanker in the Port of Houston, then coordinating for DNV class-approved divers to survey it, and responding to shipboard fires throughout the Western Hemisphere.
But it's not all emergency response. A big part of being compliant is performing drills and real-world scenarios, and Donjon-SMIT does just that under the direction of Guillermo Hernandez, its Houston-based OPA 90 manager. From non-tank vessel response telephone drills to tabletop exercises to multiday long vessel spill simulations, Donjon-SMIT performs drills as if it were the real thing, and that's the point.
The acquisition of Ardent Americas in 2020 demonstrated its resiliency. Just two weeks after the acquisition, a former Ardent customer had one of its cargo vessels, the Nomadic Milde, drag anchor and collide with the Atlantic Venus, then strike a chemical dock before eventually grounding in the lower Mississippi River.
Donjon-SMIT responded immediately, leveraging its local assets to minimize damage and stabilize the situation. Former Ardent customers never experienced a lapse in coverage or service during what turned out to be a seamless transition.
Resolve Marine
Fort Lauderdale-based Resolve Marine epitomizes the global salvage business. Founded in 1984 to provide salvage services in Florida and the Caribbean, Resolve has dramatically expanded and today provides global emergency response and wreck-removal services worldwide. This multi-generational, family-run salvor is the largest U.S.-based salvage company with equipment and employees staged in the Americas, Europe, Africa and Asia.
Resolve's mission is "To serve as a world leader in providing safe, innovative maritime solutions." It's the only salvage organization to develop an in-house school that specializes in shipboard firefighting and STCW courses. It has the largest project management and administrative support of any salvor with a dedicated engineering staff of a dozen naval architects including several professional engineers who provide technical and field-level support through disciplined engineering analytics.
Further testament to Resolve's mission is its philanthropic Mission Resolve Foundation, a nonprofit 501(c)(3) focusing on relief during humanitarian crises, among other efforts.
At the field and deck-plate level, this past year has been anything but slow for Resolve. At any given moment, its global emergency response team is dealing with a wide variety of shipboard issues –many being containership fires. "This has been a year for fire responses," says Todd Schauer, Marine Operations Director. "They're occurring on vessel types ranging from car ferries to fish processors."
Resolve has also been busy with wreck removals, most notably the recovery of a commercial fishing fleet of 33 vessels displaced and grounded by Hurricane Ian. Twenty-seven were refloated and six demolished, reestablishing the harbor and restoring the livelihoods of local shrimpers and fishermen.
Tsavliris
Based in Piraeus, Greece and founded in 1964, Tsavliris Salvage since its inception has completed over 2,000 wreck removals while providing global emergency response.
The company made its mark in the industry by completing 100 percent of attempted wreck removals, a not entirely surprising achievement considering that over 90 percent of its contracts are structured as "no cure, no pay" lump sums. If necessity is truly the mother of invention, then the "no cure, no pay" contract is the catalyst for longevity in the maritime salvage industry.
A notable recent response occurred last year when the bulk carrier Magic Seas lost her entire tail shaft near Bermuda while in transit from the U.S. to Turkey. Tsavliris dispatched a complete salvage team including the salvage engineer, divers, riggers, welders and tugs to tow the Magic Seas to Greece.
In March of this year, it won a contract to refloat the motor yacht 007, which ran aground and was beached off Kythnos Island, Greece. The team utilized divers and two crane barges to successfully refloat the vessel without incident or injury to crew or environment.
Global Diving & Salvage
Wreck removal is the core of Global Diving & Salvage's ("Global") business model. Seattle-based and part of the Moran Group of Companies, Global is having a busy year of project-based wreck removal.
A notable example was the recovery of the M/V Aleutian Isle in the Haro Strait near San Juan Island off the coast of Washington last August. The 58-foot fishing vessel rested on a subsea cliff in 250 feet of water with over 2,000 gallons of diesel fuel aboard.
With a six-to-eight knot current and the potential of releasing fuel while continuing to slide toward the bottom, the salvage team coordinated its dives to coincide with the half-hour window during slack tides to perform the rigging. A 4-point anchor mooring system crane barge, surface-mixed gases of helium, nitrogen and oxygen for the divers, an ROV and strong support from the project and operations management team resulted in the incident-free recovery of the M/V Aleutian Isle.
Quality First Marine
One thing about salvage is that no two salvage scenarios are the same. Diving in depths of over 200 feet is challenging, but so is refloating a vessel in two feet of water.
In the bayous of Louisiana, Quality First Marine is beginning the initial phase of a state-funded project to remove sixty shrimp boats, fishing boats and a variety of other small vessels grounded and displaced in the aftermath of Hurricane Ida.
Salvage operations in the bayous of Louisiana, especially following natural disasters like hurricanes, can be particularly challenging due to a variety of factors. In addition to the obvious physical and environmental difficulties, there are a range of administrative, legal and ecological concerns that can further complicate the process. Acquiring the myriad of permits from local, state and federal agencies with much redundancy and contradictions is becoming a large part of the management burden.
As in most salvage projects, Quality First Marine is working against time, the administrative process and the weather, attempting to dislodge vessels from the banks of bayou canals and return to service as many as possible this fall, before the northern winds from winter storms further reduce water levels.
More Than Money
So it's been a typical year thus far, mainly emergency responses from fires and marine casualties with few large-scale removals and consequently less overall revenue.
The larger companies capable of providing global services are experiencing steady activity with emergency response while engaging in the bareknuckle brawling of "no cure, no pay" lump sum contracts. The smaller regional companies are seeing plenty of activity albeit with a limited labor force and intense competition.
However, money is not the be-all and end-all in the salvor's world. The enthusiasm of salvors for their work is contagious. "No one standing outside a hatch while manning a fire hose is thinking about how much overtime they are making," says John Witte, CEO of Donjon. "They're focused on what they're doing and are there to make a difference."
Quality First Marine's President & CEO Cristian Couvillion-Do says about salvors in general: "Their expertise isn't just about salvaging boats. It's about preserving stories, livelihoods and an ecosystem that the world cherishes."
Adds George Tsavliris, CEO of Tsavliris: "Salvage is not all about money. This is our way of life and we care. We deeply care about the environment and the shipping industry."
Pat Zeitler is a commercial diver and freelance writer based in Houston.
The opinions expressed herein are the author's and not necessarily those of The Maritime Executive.