Drilling Down
There?s no shortage of challenges when you?re looking for oil at 10,000 feet.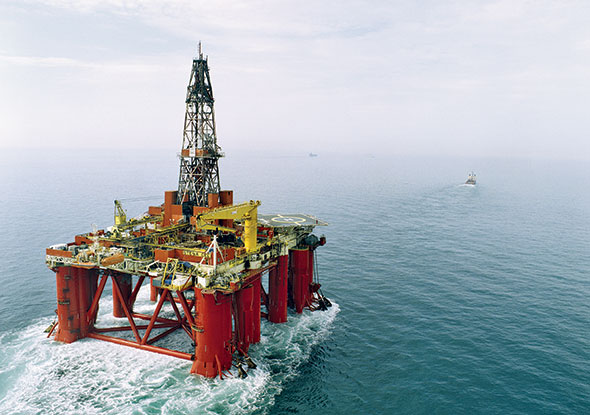 The oil and gas industry is buoyant. Capital expenditures on FPSOs (Floating Production Storage and Offloading units) are on the rise as they chart deeper and deeper waters to extract the planet's oil and gas reserves. Newbuilds and conversions are favored over redeployments, and increased costs for local content are forecast for the next four years.
A staggering $91 billion is projected to be spent on floating production systems, according to energy consultancy Douglas Westwood (DW). "Overall, energy and petroleum exploration and production expenditures are projected to hit record levels of $644 billion this year," says Steve Robertson, Director at DW's Canterbury, England head office.
The current hotspots are Brazil and West Africa. Brazil is leading the way, driven by huge investments from the state-owned oil company, Petrobras, followed by Angola's Sonangol, says David Clinton, Associate Naval Architect for London Offshore Consultants (LOC). "A national company is more able to provide the initial capital investment and cope with years of investment with no revenue stream," he says.
FPSO technologies are advancing with the increased demand. "It is extremely difficult to install a vessel and keep it in position with almost no margin for error at depths of up to 2,500 meters for up to 25 years at a time, often in very harsh weather conditions," says Brian Jones, Associate Director of LOC. "While most FPSO designs are broadly similar, the increase in water depth has meant a significant amount of engineering design is focused on the mooring system."
Mooring Systems & Other Challenges
One company that is pushing the limits of FPSO and associated mooring technology is SBM Offshore, headquartered in Monaco. Its fleet of 15 vessels has achieved throughput volumes of close to one million barrels a day with an average uptime of 99 percent. With a significant R&D budget and its own laboratory in France, where it builds and tests new proprietary equipment, the company is currently working on advancing the technology of mooring systems, especially as they relate to higher loads and higher pressures for their fluid swivels.
"We are just completing the endurance qualification tests for a new swivel which is under pressure of 800 bars, well in excess of what's available on the market today," says Michael Wyllie, Chief Technology Officer. "That is in response to a client application where there was a technology gap preventing them from developing a high-pressure field."
Wyllie says the depth limit for FPSOs is not constrained by mooring technology (one of SBM's FPSO projects is at nearly 3,000 meters), but more by the riser systems to get the fluid from the seabed to the surface (normally part of the subsea contractor's scope). He also notes that units are getting more complex with the addition of, for example, CO2 removal and re-injection, resulting in heavier topsides. There is also a demand for longer design life of up to 30 years, which poses further challenges. "Additionally, nationalization targets for the FPSO crew can require heavy training obligations to ensure safe and efficient operation of more complex processing equipment," he states.
He points out that the relocation of FPSOs is an increasing challenge for the industry because often the design life of a new unit exceeds the lease term: "Every reservoir is different – the pressure, the temperature, the fluid composition. So the topside processing facilities need to be optimized, making relocation from Field A to Field B unlikely to be a 'plug and play' scenario. Bespoke modifications are typically required."
The biggest technical advances on FPSOs and MODUs (Mobile Offshore Drilling Units) each year are improved materials and maintenance, which have led to ships and equipment being less vulnerable to corrosion and fatigue, extending their operating life and reducing maintenance costs. New pipe technology, where one pipe is laid into another insulated pipe, is helping keep oil or gas temperatures level while increasing flow rates as the product leaves the seabed. Increased drill-pipe lengths can now expedite laying pipe in 24-meter sections rather than 12-meter sections.
Additionally, the newest MODUs are able to operate at a depth of over 3,000 meters because their dynamic positioning technology means that no moorings are required. FPSOs could use dynamic positioning technology, but their operating life of 25 years makes such an expensive system cost-prohibitive.
Nevertheless, every year sees new records in lengths and depths. In February, Transocean announced a new deepwater record for a drillship operating at a depth of 3,165 meters. New injection systems on FPSOs have also come into play. Typically, as oil and gas is extracted, the pressure in the reservoir drops, decreasing the flow rate. Injection systems replace the extracted product with water or gas to maintain the same high flow levels.
"MODUs have similar market drivers as FPSOs, but since they operate in even harsher environments we might see more semi-submersibles and innovations in vessel design," explains LOC's Clinton. "Already there are some MODUs in the Arctic that are circular in order to withstand the pack ice." In fact, Stena Drilling touts the world's first dynamically-positioned ice class +1A1 dual-mast, ultra deepwater drillship (non-circular) currently under construction, with expected completion during the second quarter of 2017. The fourth vessel in the Stena DrillMAX fleet, she is equipped to operate in 7,500 feet of water with a maximum depth of 10,000 feet.
Next-Generation Tools
According to IHS Petrodata, in early March there was a total of 840 offshore drilling rigs worldwide with 710 units contracted, resulting in 85 percent fleet utilization. In February, Maersk Drilling, headquartered in Denmark, announced a multiyear partnership with BP's Project 20K™ to develop next-generation tools for deepwater drilling rigs that will work in reservoirs with pressures up to 20,000 pounds per square inch and temperatures of 350 degrees Fahrenheit. Today's technology has a technical limit of 15,000 psi pressure and 250 degrees Fahrenheit.
BP estimates that, once these new technologies are in existence, they could produce an additional 10 to 20 billion barrels of oil and oil equivalents for the company's global portfolio. Claus V. Hemmingsen, Maersk Drilling's CEO, said in a statement: "We are proud to enter into this partnership with BP and see it as recognition of Maersk Drilling's technological achievements and competencies. The technology developed will move the boundaries of the offshore drilling industry and will enable access to resources that are inaccessible with today's technology."
On the safety side, Mike Hoyle, Head of Advanced Engineering for the UK Marine & Offshore Division of GL Noble Denton, says site assessments for jack-ups include ensuring their structure and foundation are safe and, for semi-submersibles, that their station-keeping systems (moorings or dynamic positioning) are in order. Both kinds of units must also be able to handle any extreme weather conditions at the proposed location. Hoyle was recently recognized by the International Association of Drilling Contractors for his contribution to new ISO standards that came out last year for the site-specific assessment of MODUs.
Another trend in harsh environments for FPSOs is linked to LNG FPSOs (FLNGs) in Australia, where units are typically too big to be disconnected and have to remain in place and take severe environmental loads during cyclonic events, which can lead to very large mooring loads. Floating LNG technology allows production and liquefaction of gas by cooling it offshore to -161C and shipping it in insulated tankers to markets worldwide. Shell and Petronas are building the first units at the moment, which will be in the water around 2016/2017. "Some FPSOs have cost as much as $2 billion, and FLNG units can easily double that," says DW's Robertson.
SBM Offshore is exploiting its new technology for mid-scale FLNGs, which entails taking two LNG tankers and joining them together to form a large unit with ample storage and plenty of deck space for LNG processing. "Doing this will be much faster and cheaper than producing a newbuild hull and leverages SBM's core competence of tanker conversions," says Wyllie.
Another first for SBM is a new-to-market, no-flare solution for onboard gas disposal. Oil and gas companies often carry out extended well-testing, typically over a six- to nine-month period, where they test the well-production potential before making multibillion dollar commitments for full-field development. To dispose of the associated gas during this test phase, they may install an export line or drill a re-injection well, but if this is not economical they may consider flaring the gas instead. Now, due to increased environmental and regulatory pressure, the industry is looking for ways to reduce flaring.
"Thanks to an exclusive agreement with CompactGTL to use 'Gas to Liquids' technology," Wyllie explains, "SBM can convert the associated gas into synthetic crude oil onboard the FPSO and blend the synthetic crude with the natural crude produced from the reservoir, thereby monetizing the gas and, at the same time, eliminating gas-flaring. This is an attractive solution for associated gas disposal in ultra-deepwater fields."
Maintaining Profitability
Douglas Westwood projects 94 FPSO installations worldwide over the next five years. About half of all FPSOs are owned by oil companies and half by production contractors, who either operate the units on behalf of the oil companies or lease them at a daily rate. But apparently the leasing market hasn't been riding the good revenue wave. Robertson says some lease contractors have been hit with losses in the hundreds of millions. "The industry desperately needs a new business model to survive, but no one is pushing forward any sensible solutions just yet," he explains. "There is no shortage of vessel deployment opportunities, but long-term the industry needs profitable contractors that can execute projects and manage risk effectively."
The deeper FPSOs and MODUs go, the more technology has to grow. "It's easy to forget the true scale of these operations," says LOC's Jones. "Vessels are anchoring to the seabed five and a half Empire State Buildings below sea level. In the last few years, steel risers the length of Central Park have been totally redesigned to be semi-flexible."
Enormous resources are required to get gas or oil flowing – to the tune of $10-$12 billion upfront with no revenue stream in place for three to 10 years. "The only date that no project will ever push back is the date of 'first oil'," adds Jones. "This extends the incredible pressure involved in these projects, from top to bottom, as everybody understands the need to deliver results on time."
The opinions expressed herein are the author's and not necessarily those of The Maritime Executive.