Wärtsilä Will Adapt Engine to Tri-Fuel Methanol for Celebrity Cruises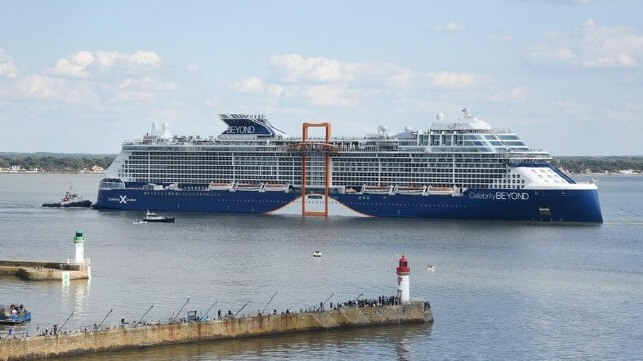 Wärtsilä has agreed to adapt its engines to make Celebrity Cruises' future newbuild cruise ship one of the first cruise ships to be delivered methanol-ready in anticipation of later adoption of the emerging alternative fuel. Wartsila reports it will be the company's second project to adapt one of its existing engine designs for methanol-fueled operation. With this step, Royal Caribbean Group's Celebrity Cruises continues the company's efforts to evolve its operations toward the long-term goal of net zero emissions by 2050.
"Wärtsilä has invested heavily into researching viable future carbon-neutral fuels for the marine industry, and methanol has emerged as one of the most promising candidates. This will be the second methanol-fueled engine conversion that we have undertaken, and the first with the Wärtsilä 46F engine. We share a commitment to decarbonize shipping, and the transparent partnership between our three companies for this newbuild project represents an important milestone along the path to achieving this goal," commented Håkan Agnevall, President and CEO of Wärtsilä.
According to today's announcement, Wärtsilä is working in close collaboration with Royal Caribbean Group owners of Celebrity Cruises and the Chantiers de l'Atlantique shipyard which is building the Edge class cruise ships operated by Celebrity. The first of the ships, Celebrity Edge, was introduced in 2018 and followed by an identical sister ship Celebrity Apex delivered in 2020. The first two ships of the class are 1,004 feet long and 129,500 gross tons. Two additional ships, Celebrity Beyond introduced in 2022 and Celebrity Ascent due to enter service late in 2023 are enlarged versions at 1,073 feet in length and 140,600 gross tons. Royal Caribbean Group has an agreement with the shipyard to build an additional Edge class ship for delivery in 2025, which according to the company's annual report is contingent upon the completion of conditions precedent and financing.
"With the launch of our Edge Series of ships in 2018, we set ambitious sustainability goals to make these ships the most energy efficient large vessels at sea," said Celebrity Cruises President and CEO Lisa Lutoff-Perlo. "Working collaboratively with our expert partners, we have continued to develop new technologies and achieve breakthroughs with each subsequent ship."
Wärtsilä reports it received the order in January 2023 and will convert two Wärtsilä 46F engines to allow tri-fuel flexibility using either conventional heavy fuel or marine gas as well as the ability to convert to methanol. The engine manufacturer says the project will give the new ship unmatched fuel flexibility and has the potential to advance the use of alternative fuels in the cruise sector.
It will be the first time that the 46F engine has been adapted for methanol. Wärtsilä will convert the engines at the yard, prior to commissioning. The full scope of the order includes two 8-cylinder Wärtsilä 46F engines capable of operating with methanol fuel, two 12-cylinder Wärtsilä 46F engines, and one Wärtsilä 32 engine.
"As we innovate our ship design and offerings, we're also focused on equally evolving the fuel and technology landscape that powers them," said Jason Liberty, president and CEO of Royal Caribbean Group. "By incorporating tri-fueled engines, we are ensuring that as alternative, low-carbon-based solutions become more viable, our ships will be ready to adapt and drive the industry forward to a more sustainable and net zero emissions future."
The addition of methanol marks the next step for Royal Caribbean Group. In August 2023, they will introduce the Silver Nova which is being built by Meyer Werft in Germany as the group's first LNG-fueled cruise ship. In addition to dual-fuel engines, the 54,700 gross ton ship and a sistership will feature fuel cells and batteries designed to support hotel operations while in port. Royal Caribbean International will take delivery on its first LNG-fueled cruise ship, which will also be the world's largest and the first of three ships, the Icon of the Seas, late in 2023. The company is also building an LNG-fueled version of its Oasis Class, Utopia of the Seas, due for delivery in the second quarter of 2024.
Royal Caribbean follows its joint venture company TUI Cruises which is building the first methanol-ready cruise ship at Meyer Turku. The first block of the ship due to launch in 2024 was recently placed into the drydock to begin assembly. Norwegian Cruise Line also reported that two of its cruise ships to be introduced in 2027 and 2028 will be adapted for methanol while the company is also working with MAN on projects to explore retrofitting existing engines for methanol operations. Disney Cruise Line also plans to introduce a methanol-fueled cruise ship in 2025.
Adapting the ships for methanol is not without its complications. Maersk commented when it started its methanol dual-fueled containerships that the engines were costing about 15 percent more. Meyer Werft which is converting the Global Dream cruise ship for methanol for Disney said it is an involved project including converting the engines, introducing additional fuel tanks, new piping and controls, and additional safety elements. The expectation is that green methanol will become readily available giving the ships a means to operate climate neutral in the future.