Shanghai Reopens as China's First Cruise Port in More Than Three Years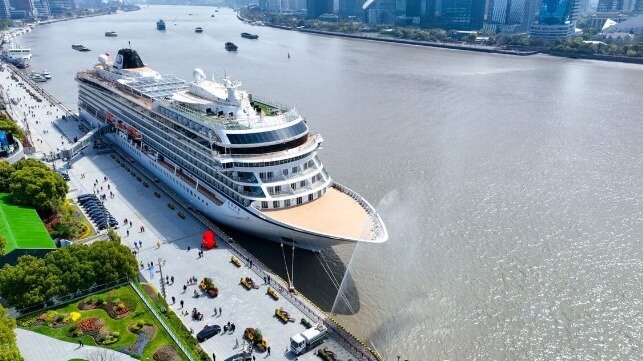 China took a key step in the ongoing process of slowly reopening the country's cruise industry. On Sunday, March 26, the port of Shanghai reopened to a domestic cruise ship for the first time since the onset of the pandemic more than three years ago. Port officials said it was part of an ongoing effort that would see the port also reopen for international cruises.
Before the pandemic, China had been the cruise industry's fastest-growing source market with a developing domestic industry as well as a range of international cruise lines basing ships in China. While limited amounts of domestic cruising have been permitted over the past three years, the larger cruise ships have remained idle as China maintained a strict zero-covid policy until late 2022.
China Merchants which is in partnership with Viking to launch China's first luxury cruise ship resumed service with the line's first sailing in over a year. The cruise ship was sold by Viking to the Chinese joint venture in 2021 and renamed Zhao Shang Yi Dun and marketed as CM-Yidun to the domestic Chinese market. The 48,700 gross ton cruise ship was introduced as the Viking Sun in 2017 by Fincantieri as part of the company's expansion into ocean cruising, Before the pandemic, Viking had also been developing a Chinese outbound cruise market, including some of its European river cruises dedicated to Chinese passengers.
The cruise ship briefly entered service in 2021 sailing from Shenzhen Shekou Port and to Sanya in Hainan before returning to Shenzhen on an 8-day itinerary, marking the first of a planned series of China Coastal Cultural Cruises. Pandemic controls forced the company to later suspend domestic cruises.
The CM-Yidun recently arrived in Shanghai to prepare for the new service which coincided with China further relaxing travel restrictions and the reopening of Shanghai's airport. Flights resumed from Shanghai Hongqiao on Sunday with over 300 outbound flights scheduled each week.
"Despite the huge impact of the pandemic, all parties of the cruise traveling industry maintained confidence and never stopped their hard work. We are delighted to see passengers still hold strong enthusiasm for cruise traveling," said Gu Jinshan, chairman of Shanghai International Port Group during the ceremony held for the relaunch of service from the international cruise terminal in Shanghai's Hongkou district.
According to the officials, it becomes the first cruise homeport in the Chinese mainland. It had been 1,152 days, since January 29, 2020, when a cruise ship was last permitted into Shanghai. The CM-Yidun is operating five-day coastal cruises to Zhoushan, Xiamen, and Shenzhen round-tripping to Shanghai. An additional eight-day cruise itinerary to the same ports is also planned. It is the only cruise route that China's Ministry of Transport has permitted at this point as they note they plan to slowly rebuild cruising. Previously, permission was also granted for international cruise ships to begin to stop in Hong Kong this year and a domestic cruise to nowhere program also recently begin operating from Hong Kong.
In addition to the domestic voyages, Xu Juehui, managing director of Shanghai Port International Cruise Terminal Development Co. said planning is underway for the relaunch of international cruises. Officials predicted the first international trips are expected to start before the end of the third quarter.
Executives at the major cruise companies have expressed confidence that the Chinese market would reopen by 2024. Analysts point out that it will take the cruise lines time to reposition ships to return to China.