Maersk Takes Delivery of World's First Methanol-Fueled Boxship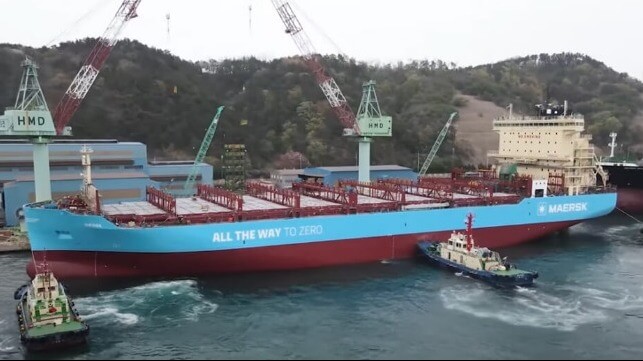 Maersk took delivery on the world's first dual-fuel methanol containership today, July 10, from Hyundai Mipo Shipyard in South Korea. The delivery comes just two years after the bellwether order that has now seen the global orderbook for methanol-fueled containerships soar to over 100 vessels according to data from DNV.
Most of the details for the ship, including the official announcement of her name, remain under wraps until a celebration scheduled for Copenhagen on September 14 as part of a week of festivities scheduled by the shipping company. Before that, the vessel will make an approximately 11,000 nautical mile voyage from South Korea to Europe. Maersk and fuel supplier OCI Global announced they had secured a sufficient supply of green methanol to fuel the entire delivery run as a green voyage.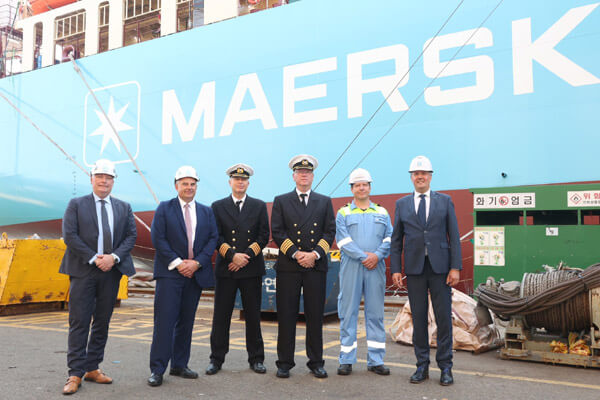 Delivery of the first methanol-fueled containership took place in South Korea (Maersk)
Officially known as newbuilding Project Solstice and HMD Hull #4168, the order was placed at the end of June 2021. Maersk reported that the vessel is a feeder ship to operate on its routes in the Baltic. It is 564 feet long with a 105-foot beam and a nominal capacity of 2,100 TEU including 400 reefer plugs. While the name was not announced, the vessel's AIS signal now reads Laura Maersk. As a demonstration ship and a point of pride, the vessel is registered in Denmark.
Maersk has said that this vessel is providing insights both into the design and construction process for green vessels as well as providing experience for its fleet of larger methanol-fueled containerships due to start delivery in 2024.
Leonardo Sonzio, Head of Fleet Management & Technology for Maersk recently discussed the challenges in a company-produced video. Among the design issues, he notes the integration challenges for the methanol fuel supply system and the new engine technology. He says that 5,000 additional engineering hours went into the development of this vessel versus a normal newbuild. Other reports indicate the ship incorporates other environmentally-friendly technologies including the ability to operate on shore power. Maersk has also launched training programs both for the ship's crew and its shoreside staff.
The other big challenge is building the supply of green methanol and the bunkering infrastructure. By ordering the large number of vessels, Maersk believes it demonstrated early demand for green methanol and the company is investing in the development of a global supply chain.
The new containership was floated out at the shipyard in Ulsan, South Korea at the beginning of April 2023. During the last week of June, the vessel underwent four days of sea trials to test its equipment. Ursula von der Leyen, the president of the European Commission, will have the honor of being the vessel's godmother for the naming ceremony and ushering in the new era in container shipping.