APM Terminals Partners to Expand Northern Vietnamese Container Port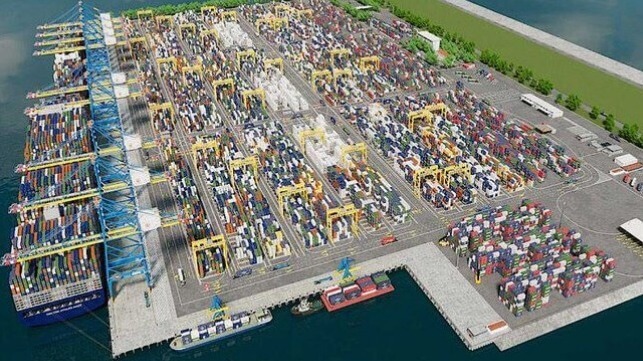 Maersk's APM Terminals is forming a strategic partnership with Vietnam's Hateco Group to expand the capabilities and capacity of the northern port of Lach Huyen in Haiphong City near Hanoi. The project calls for the addition of two new deep-water berths as part of the efforts to expand Vietnam's container ship capacity.
"We are proud of Hateco Haiphong International Container Terminal (HHIT) project, which is the largest and most modern container port facility in Vietnam," said Tran van Ky, Chairman of HATECO Group. "We are also excited to partner with APM Terminals and Maersk, who have been carefully chosen to be our long-term strategic partners due to aligned visions for the market and their capabilities to add value commercially and operationally."
As part of the strategic partnership, APM Terminals will provide financial, operational, and technical support to the Hateco Group. According to the companies, the project aims to capitalize on the favorable natural conditions and geographical location of the area, with the objective of facilitating the direct import and export of goods between the north of Vietnam and European and American markets. The project is also expected to directly create attractive opportunities for key customers and cargo owners in the north of Vietnam.
The container port at Lach Huyen opened in 2018 and currently can handle vessels with a capacity of up to 14,000 TEU and 16 meters (52 feet) draft. The government approved the expansion plan for the port in March 2021.
"We are very pleased to partner with Hateco on this important project, further unlocking one of the rapidly growing and high-potential markets in South-East Asia," said Martijn van Dongen, Head of Investment at APM Terminals. "This involvement naturally underpins our ambition to grow where it benefits our customers, and that is clearly the case in Vietnam. We also believe in the win-win partnership with Hateco, which will create synergies between local expertise and our global capabilities."
The project calls for the development of two berths with a total length of 900 meters (450 meters each). Each will be capable of accommodating container vessels of up to 18,000 TEUs capacity. In addition, in the initial phase of the expansion, the facility will have five ship-to-shore (STS) cranes and 14 rubber-tire gantry (RTG) cranes.
Hateco intends to complete all the construction work and deploy equipment by the end of 2024. The new terminal is expected to become operational by the first quarter of 2025.