After Medevac, Captain of Cocaine-Laden Bulker is Held Without Bail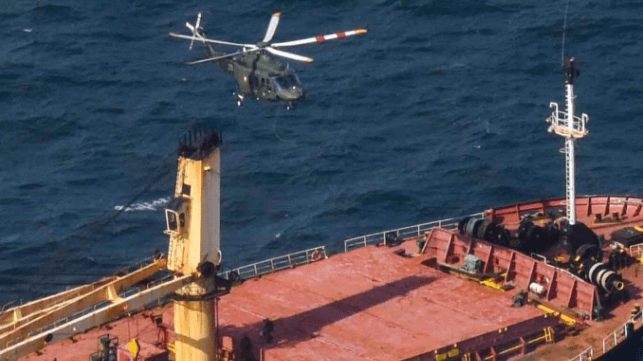 The master of the cocaine-laden ship that Irish authorities seized last week will be held without bail pending trial, a district court in Wexford, Ireland ruled on Monday.
Iranian national Soheil Jelveh, 50, was the master of the bulker Matthew during a transatlantic voyage to Ireland, which ended in a high-profile adverse boarding by Irish Army forces on September 26.
At the time of the military boarding, Jelveh was not on the ship. The Matthew's crew had requested a medevac for him on Monday evening, and an Irish SAR helicopter flew him to a hospital in Wexford. The authorities boarded the Matthew the next morning and found $170 million worth of cocaine on board - the largest drug seizure in Irish history.
Jelveh was arrested at the hospital shortly after. According to the gardai, he was in possession of phones, documents and $53,000 in cash, and they suggested that he may have been attempting to evade arrest using the medevac flight. The captain asserted that the money he was carrying represented his own wages, which had been paid the month before.
"He was caught red-handed and we believe he was attempting to make an escape when he was airlifted from the ship," a gardai detective told the court.
For his alleged role in transporting two tonnes of cocaine into Irish waters, Jelveh has been charged with possessing a commercial quantity of drugs under Ireland's Misuse of Drugs Act. Under Irish sentencing reform laws, the crime carries a minimum penalty of 10 years in prison. Prosecutors asked Wexford District Court Judge John Cheatle to deny bail, given that Jelveh has no significant ties in Ireland, maintains a family in Dubai and could be a flight risk. The judge agreed, overruling the objections of Jelveh's counsel.
In total, seven men have been arrested in connection with the drug seizure, including two who had to be rescued from a small trawler which grounded while allegedly attempting to rendezvous with the Matthew.
The interdiction was unusually dramatic. On the morning of September 26, the Irish Navy patrol ship William Butler Yeats chased down the Matthew and fired warning shots when the vessel failed to comply with directions. In rough weather, and with the bulker maneuvering hard, Irish Army commandos fast-roped to the deck from a helicopter and took control of the ship.