GAO: US Coast Guard Needs to Strengthen Foreign Port Security Program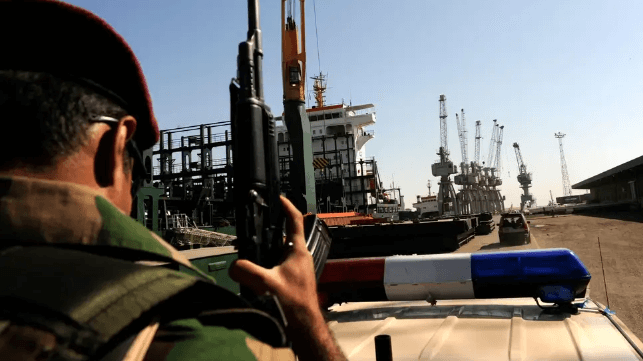 When we shop online for a new mobile device or walk into a store for a new pair of shoes, we're not always thinking about the potentially long and circuitous routes products can take to make their way into the hands of consumers. Or even who is responsible for ensuring the security of those goods. But the truth is, much of that cargo has travelled long distances, on large vessels, and through foreign ports before being stocked on a shelf or delivered to someone's door. Great effort is needed to keep such supply chains safe and secure. Given that criminals have exploited foreign seaports for illegal purposes, such as to smuggle people, weapons, and illicit substances to the U.S., the movement of cargo through the U.S. supply chain is inherently vulnerable to terrorist threats.
Ninety percent of global trade relies upon maritime vessels transiting from foreign ports, directly fueling more than $5.4 trillion of annual economic activity. The security of these foreign seaports is critical to the U.S. marine transportation system. Various federal agencies, including the U.S. Coast Guard and Customs and Border Protection (CBP) are responsible for helping to keep it secure.
The Coast Guard relies on its International Port Security Program to assess the security of these foreign ports and identify potential risks posed to U.S. ports by vessels transiting through ports, particularly those that lack effective antiterrorism measures. A key practice of the program is conducting in-person foreign port security assessments—known as country assessments. During these visits, Coast Guard personnel meet with the respective country's officials responsible for implementing international port facility security standards. And they observe security measures in place at foreign port facilities. From these meetings, and through observations, officials determine the country's overall port security performance and document the results in reports.
The Government Accountability Office (GAO) recently reviewed the Coast Guard's International Port Security Program and found opportunities for the Coast Guard and State Department to strengthen their efforts. GAO traveled to Angola and Jamaica to observe Coast Guard teams performing foreign port security assessments. In its review, GAO found that as of September 2022, Coast Guard's program had not disseminated its most comprehensive report to CBP and other federal agencies that may have a vested interest in receiving it. For example, it had not shared annual reports with CBP, which is required to assess Coast Guard's port security information in its supply chain security efforts. GAO recommended that the Coast Guard more consistently share its reports with CBP and other federal agencies, which could better support its "whole of government" approach for securing the U.S. supply chain.
While in-person port visits are critical to assessing foreign port security, not all countries allow access. In recent years, the Coast Guard's program has started using alternative approaches to make foreign port security assessments for ports they are unable to visit. However, it has not consistently done so. GAO found that the Coast Guard could benefit from clarifying its approach in those cases where countries prohibit in-person assessments.
Like the Coast Guard, the State Department provides capacity building to help its maritime trading partners strengthen their port security. However, the two agencies have not regularly coordinated planning and implementation in these efforts. GAO found that by establishing a process for doing so, the Coast Guard and State Department can better ensure they complement, rather than overlap, their efforts. In its full report, GAO made several recommendations and the Coast Guard and State Department agreed with them all.
Heather MacLeod is Director at the U.S. Government Accountability Office.
The opinions expressed herein are the author's and not necessarily those of The Maritime Executive.