Cruising's Rebound Raises Hopes of Normalcy Going Forward
Cruise industry looks to brighter days as largest industry trade show begins in Florida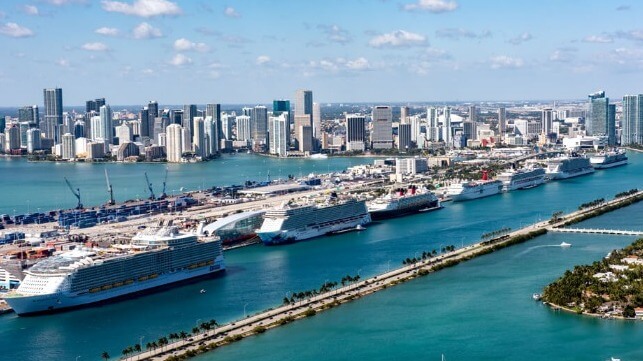 The cruise industry is strong and optimism is high as the industry this week starts its largest trade show of the year. Executives are heading to Seatrade Cruise Global in Fort Lauderdale, Florida with the wind at their back and with travel agents believing the cruising is healthy again. However, the hurdles remain and there is a lasting impact both on the balance sheets of the cruise lines and the industry's growth outlook.
Cruise industry executives told investors 2022 would be the rebound year, only to see inconsistent demand and strong pricing pressures. Passenger numbers rebounded with the major brands reporting they were exceeding 80 percent occupancy levels and approaching the historic 100 percent or better occupancy before the 2020 suspension due to the pandemic. But much of it came at a cost with heavy discounting and passengers deferring bookings till close to sailing dates in hopes of getting the best prices.
"2023 is the last ramp-up year with 2024 being the truly 'normal' year (for real this time," wrote financial analyst C. Patrick Scholes of Truist Securities in a mid-March industry report. He believes there is much more conviction in the industry following a strong start to 2023 with a reduced level of price discounting and strong bookings.
Wave Season
Historically, much of the cruise industry's annual bookings come early in the calendar year in a period that has become known as "wave season" in the industry. Like other consumer products, the cruise lines time incentives and promotional offerings to fuel the reservations. Building on pent-up demand, however, 2023's wave season kicked off in late November 2022 and ran at a frenetic pace through January with for example Royal Caribbean Group telling analysts at UBS it was an exceptional wave season, "by far the greatest wave season they've seen," reported analyst Robin Farley.
Speaking to investors earlier today, March 27, Carnival Corporation CEO Josh Weinstein said, "We are enjoying a phenomenal wave season, achieving our highest ever quarterly booking volumes and breaking records in both North America and Europe. This success was not limited to the biggest brands or as in past years to the value-priced and highest luxury ends of the market. The contemporary brands, Carnival Cruise Line, MSC Cruises, Norwegian Cruise Line, and Royal Caribbean International, all report a strong response that also spread to premium brands such as Holland America Line and Cunard Line as well as niche brands such as Windstar Cruises and expedition lines such as Lindblad Expeditions.
"Overall, the wave season was a success," writes Truist Securities analyst Scholes in his industry report. He noted a slowing in the booking "wave volumes in February and March," but speculated some of it was the result of much of the inventory in the "value priced" segment of the market had already been booked meaning February and March bookings were likely for higher-priced cruises where there was still availability.
Farley at UBS predicted that the wave would likely continue well into March noting that the average price appeared to be remaining strong. Scholes also believes "pricing did not flinch," in the wave season. He wrote in his report, "Positives include the heaviest discounting is now mostly in the rear view mirror and customer cancelations continue to be down materially from 2019 levels." Another positive is the expectation that there could be a "mini-wave" coming in May ahead of the busy summer season in Alaska and Europe.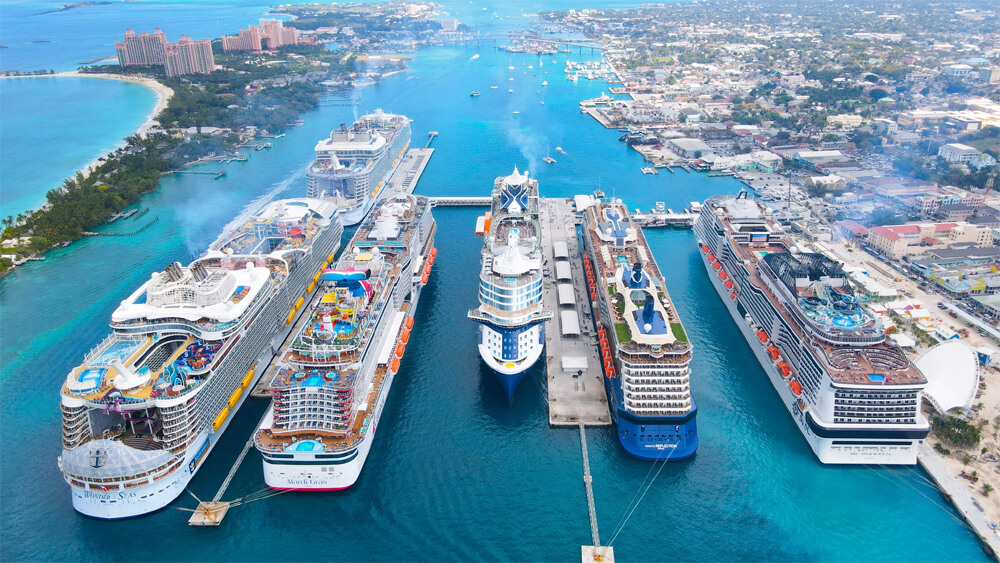 Nassau in the Bahamas set a record for the number of passengers in port in a single day (Nassau Cruise Port)
Occupancy
The rebound in passenger occupancy continued to build with for example PortMiami reporting it surpassed four million passengers in 2022, down from the record 6.8 million in FY 2019, but a dramatic improvement from the 252,000 passengers in FY 2021. Many of the passengers returning to cruising preferred to stay close to home, forgoing air travel to avoid that industry's problems in 2022. Port Canaveral to nearly the Orlando theme parks surpassed PortMiami for the first time as the central Florida port handled nearly 4.1 million passengers. It is a short-term situation according to forecasts as PortMiami estimates it will see 8.4 million passengers by 2027 while Port Canaveral projects 6.4 million passengers in 2027.
Those same strengths continue to drive passenger counts into 2023. On February 12, PortMiami set a new record for the number of passengers moving through the port in a single day. A total of 58,984 passengers moved through the port surpassing a December 2018 record of 55,816 passengers. Ten days later, Nassau in the Bahamas reported it also set a passenger record when six cruise ships arrived with 28,554 passengers, plus an additional 10,302 crew. The cruise ships were operating at 105 percent of double occupancy confirming the strength of the market in the new year.
The cruise lines continue to look to add more ships close to home in 2023. Carnival Cruise Line for example is rolling out a new product in New York in 2023 and California in 2024. MSC is homeporting its first cruise ship in New York starting this year and announced it is planning to add Galveston, Texas as its fourth North American homeport. Another encouraging development is the return of the "new to cruise" segment, which both Norwegian and Royal Caribbean report is back to pre-pandemic levels.
Icon of the Seas is one of four world's largest cruise ships Royal Caribbean has on order (Meyer Turku)
Long-Term Impacts
The rebound in passenger counts and the decline in discounting are viewed as the next step in a long road to financial recovery for the cruise industry. The three largest publicly traded corporations each reported a massive accumulation of debt leveraging their balance sheets during the pandemic. Carnival Corporation topped $30 billion, $24 billion for Royal Caribbean Group, and nearly $15 billion at Norwegian Cruise Line Holdings.
Carnival moved aggressively selling off older, smaller, and lower margin cruise ships reducing the fleet by 24 ships before saying it had completed the accelerated disposal of older tonnage but later reporting it sold yet another cruise ship in March to Japan's Mitsui O.S.K. Lines. Executives however said that sale and future would only be done if they received an offer too good to refuse. Royal Caribbean also sold ships while Norwegian maintained its fleet. All of the brands have also moved to reduce operating costs with everything from reduced portion sizes and other controls on food costs as well as reduced service levels eliminating elements such as evening clean-up and turndown services to many cabins.
The longer-term repercussions from the pandemic are impacting the orderbooks and future growth rates. Carnival Corporation is down to just five cruise ships on order, with four due for delivery in 2023 and 2024. Management said they might resume new ship introductions in 2027, but so far no orders have been placed and today they said the free cash flow would be used to begin paying down debt.
Royal Caribbean Group has the most aggressive orderbook with four of the world's largest cruise ships due for delivery by 2026 and a total of nearly 1.4 million new berths under construction, while Norwegian has nearly one million berths on order with a total of eight ships by 2027. MSC has only two large cruise ships on order due this year and next as their focus moves to the company's new upscale brand Explora Journeys. MSC and Royal Caribbean Group report they have options for additional ships.
The cruise industry's orderbook is down from its record pace before the pandemic with total orders now at approximately 60 ships valued at $40 billion. This includes one of the industry's biggest anticipated changes as luxury hotel brands look to enter the market. Ritz Carlton's first branded cruise ship entered service in 2022 with both Four Seasons and Accor Group's luxury Orient Express brand announcing their entry into cruising as well as the luxury hotel and resort Aman Group and Cruise Saudi partnering to order a yacht cruise ship from Italy's T. Mariotti.
Attendees at this week's conference will be looking for signs of how the industry recovery is proceeding. Much of the focus will be on emerging issues ranging from the evolving service and attractions aboard the ships as well as the continuing pressure to address rapidly evolving emission regulations. Analysts have raised concerns about the high cost of future-proofing and that China, the industry's largest pre-pandemic growth market remains closed. However, they believe the industry is strong with Scholes in his recent industry report writing, "2024 will be the first full year of (relative) 'normalcy'."
The opinions expressed herein are the author's and not necessarily those of The Maritime Executive.