Norwegian Cruise Line Reaches Union Agreement with Actors' Equity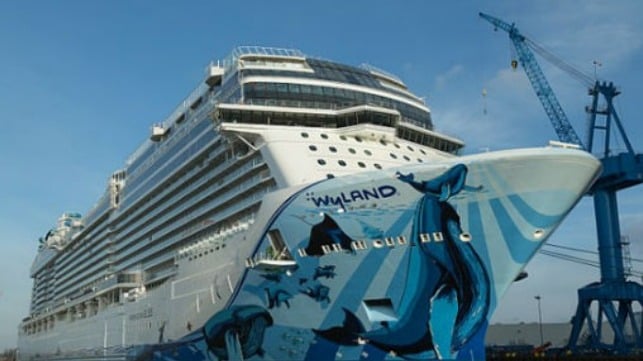 Actors' Equity Association announced today that it reached an agreement with Norwegian Cruise Lines to cover members on the cruise line's new ship, the Norwegian Bliss. From May 3 – May 5 while in New York, the Norwegian Bliss was under Equity Agreement, marking the first time that a full Equity cast has been used on a cruise ship.
The agreement added $575 per day for actors and $750 per day for stage managers to the cast's NCL salaries. Members earned a one-week credit towards their health care and pension benefits. (Equity members who work at least 11 weeks on contract are eligible for six months of health care coverage).
"I'm thrilled that Norwegian Cruise Lines hired members of Actors' Equity while the Bliss was docked in New York," said Mary McColl, Executive Director of Actors' Equity. "This is a first step, but one that underscores the big changes we are making to go out and organize new work for Equity members, wherever live theatre might be happening."
"NCL is pleased to team with Actors' Equity Association on the New York inaugural of the Norwegian Bliss, featuring Jersey Boys and our newest production, ¡Havana!, created by Broadway's own Warren Carlyle," said Richard Ambrose, VP of Entertainment for Norwegian Cruise Lines.
The Norwegian Bliss has two venues, a cabaret space and the 950-seat Bliss Theatre. In the Bliss Theatre, there were four presentations of ¡Havana! and two presentations of Jersey Boys on Saturday. Happy Hour-Prohibition was presented as a late-night event Saturday in the cabaret venue.
The new agreement with Norwegian Cruise Line marks the latest in a series of new and better-paying work opportunities organized by Equity as part of Equity 2020.
ACTORS' EQUITY ASSOCIATION, founded in 1913, is the U.S. labor union that represents more than 51,000 professional actors and stage managers across the United States. Equity endeavors to advance the careers of its Members by negotiating wages, improving working conditions and providing a wide range of benefits (health and pension included). Member: AFL-CIO, FIA. www.actorsequity.org #EquityWorks
The products and services herein described in this press release are not endorsed by The Maritime Executive.