2 Decade Lease on Container Wharf with Korea's Largest Container Transport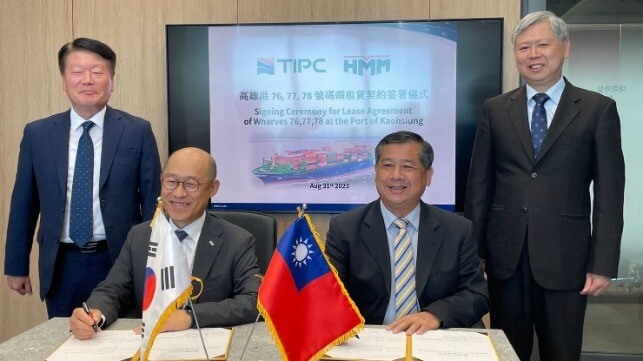 [By: TIPC]
After its January 2022 lease of Wharf Nos. 79-81 to Wan Hai Lines, Port of Kaohsiung has continued working to raise container handling numbers and solidify its position as a major global hub port. The latest fruit of this effort is the signing this year of a potentially 20-year- long lease agreement with Korea's largest container transportation and shipping company, HMM, covering three wharves (Nos. 76-78) at Port of Kaohsiung. The critical importance of overseas shipping company investments in Kaohsiung and other major Taiwan ports led TIPC Chairman Hsien-yi Lee to personally lead a delegation to Seoul and the headquarters of HMM this month (August 2023) to sign the lease documents.

TIPC appreciates HMM's plans to upgrade its operations at Kaohsiung into an Asia-Pacific operations center and to invest at least US$120 million over the next decade to upgrade container yard facilities and equipment. HMM will use its Kaohsiung base to service global shipping needs, creating a closer-knit, high-quality service network. For its part, TIPC has been actively upgrading port facilities to meet the needs of increasingly large container carriers and modernizing its wharf facilities and services. TIPC is commencing work to dredge Wharf Nos. 77 and 78 to a new standard depth of -17m, which, once completed, will allow these wharves to handle the world's currently largest, Megamax (24,000)-class container ships.

HMM has maintained long-term lease agreements on dedicated wharves at Port of Kaohsiung since 1996 and continuously upgraded its vessels and fleet capabilities, adding a total of twelve 24,000TEU Megamax vessels to its fleet since 2020. Furthermore, HMM joined the THE shipping alliance, founded by Yang Ming Marine, Hapag Lloyd, and Ocean Network Express, in April 2020. Through this 20-year lease, TIPC hopes to regularly bring more HMM and THE-alliance container ships to Port of Kaohsiung as well as to develop new, profitable routes and sources of transshipment cargoes. TIPC is committed to providing high-quality, client-focused services and business-friendly port-operating environments to ensure long-term, sustained prosperity for both TIPC ports and their shipping company clients.
The products and services herein described in this press release are not endorsed by The Maritime Executive.