World War I: Australia Fired the First Shots
The first shots of World War I were fired in Melbourne, Australia, on August 5, 1914.
They were fired by a coastal artillery battery at Port Phillip Heads when the German merchant vessel SS Pfalz attempted to slip out of port before the declaration of war was made known. The Government of Great Britain declared war on Germany on August 4, 1914, following Germany's declaration of war on Russia, France and Belgium, but the news was not received in Australia until the following day.
The Guardian newspaper's headline on 4 August 1914.
The battery fired warning shots across the German ship's bow when the ship ignored signals to stop. After an altercation between the ship's captain and her Australian pilot, she was taken back to Hobson's Bay under armed guard.
SS Pfalz was renamed Boorara and fitted out as a transport, twice surviving German torpedo attacks during the course of the war. She later assisted in the repatriation of Australian troops in 1919.
At the start of the war, the Royal Australian Navy was a small but formidable force, consisting of 3,800 personnel, 16 ships including the battlecruiser Australia, the light cruisers Sydney and Melbourne, three destroyers and two submarines. The light cruiser Brisbane and three destroyers were under construction, and a small fleet of auxiliary ships was being maintained.
The Royal Australian Navy served under the British Admiralty in diverse areas of the world, including German New Guinea, the Cocos Islands, East Africa and the Dardanelles. The Royal Australian Navy made a significant contribution early in the war when Sydney destroyed the German raider SMS Emden near the Cocos Islands in November 1914.
For Australia, the First World War remains the costliest conflict in terms of deaths and casualties. From a population of fewer than five million, 416,809 men enlisted, of whom more than 60,000 were killed and 156,000 wounded, gassed, or taken prisoner.
Globally, more than 70 million military personnel, including 60 million Europeans, were mobilized. Over nine million combatants and seven million civilians died as a result of the war.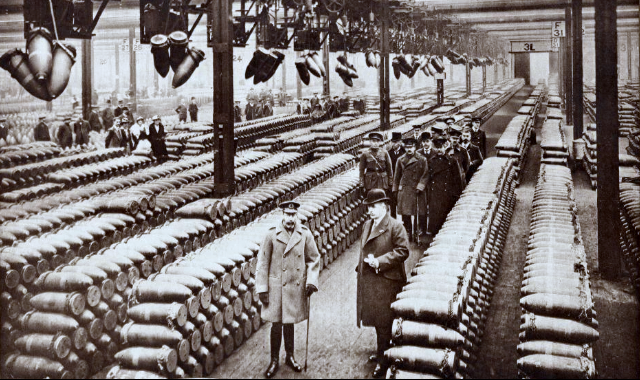 King George V (front left) and a group of officials inspect a British munitions factory in 1917.