Van Oord Enters Taiwan's Offshore Wind Market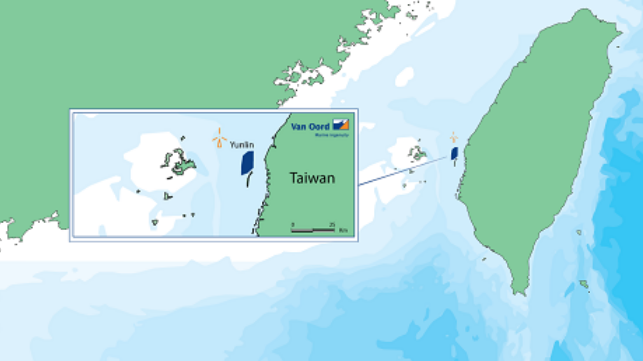 Van Oord has been designated as preferred contractor for a 640MW offshore wind project in Taiwan, marking the company's first step into the Asian offshore wind market.
The Yunlin project, located eight kilometers (five miles) from shore, has a contract value of approximately $580 million and is being developed by the Germany's wpd. Van Oord is responsible for the design, manufacturing and installation of the windfarm's 80 foundations.
Taiwan's offshore wind strategy is driven by the desire to phase out nuclear energy, and high wind speeds, manageable distances in terms of coastal and water depth and a progressive government policy are making offshore wind an attractive energy alternative. The government aims to install 5.5GW of offshore wind projects by 2025.
The Yunlin project is part of the Taiwanese government's feed-in tariff program which is connected to the Taiwan network and allows a long-term power contract of 20 years. In 2020, about 350 MW must be connected to the grid, with the remaining part following in 2021.
Taiwan announced the results of its first major offshore wind farm auction at the end of April with wpd awarded one GW of capacity and Ørsted 900MW.
The Yunlin project is the first Van Oord offshore wind project in Taiwan and also its first wind contract outside Europe. However, Taiwan is familiar territory due to previous dredging and offshore projects. At the end of 2017, Van Oord completed one of Taiwan's largest land reclamation projects with the creation of 250 hectares of new land in the Port of Kaohsiung.