USS Fitzgerald to Change Homeport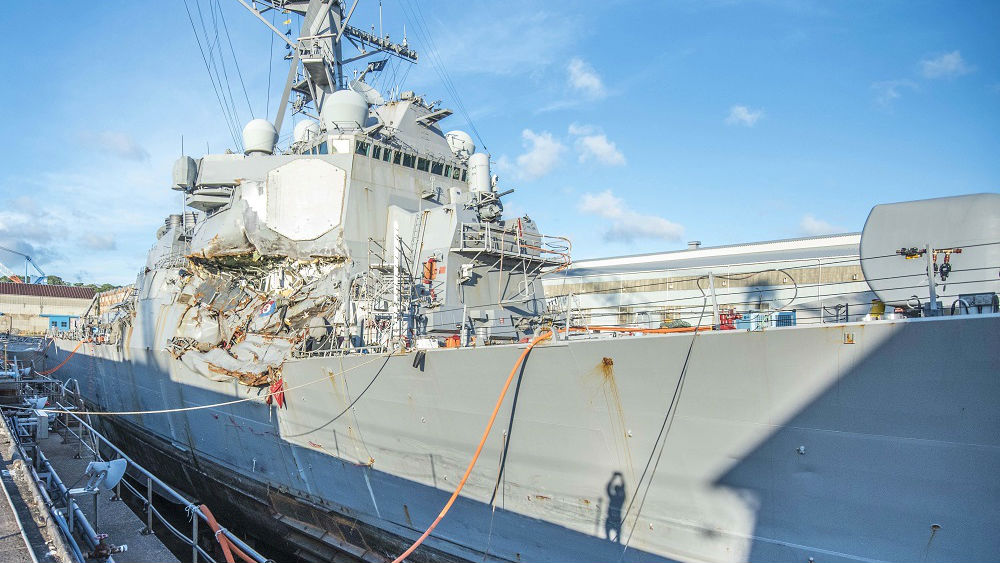 The U.S. Navy has confirmed that the guided-missile destroyer USS Fitzgerald (DDG 62) will be changing homeport from Yokosuka, Japan, to Pascagoula, Mississippi, effective from December 15.
The Navy previously announced that it intends to award a contract initiating the restoration of USS Fitzgerald to Huntington Ingalls Industries (HII) in Mississippi, before the end of the fiscal year.
The start date, scope, cost and time required to fully restore the ship after her collision with the merchant ship ACX Crystal in June have not yet been determined. The collision resulted in the loss of seven sailors and damage to USS Fitzgerald's starboard side. The significantly larger container ship damaged the destroyer above the waterline and punctured a 13 by 17-foot hole below the waterline.
The Navy chose HII following a review of the capabilities and workload of construction and repair shipyards. Given the complexity of the work and the significant unknowns of the restoration, the Navy determined that only an Arleigh Burke-class shipbuilder could perform the job. Only HII has the available capacity to restore USS Fitzgerald to full operational status in the shortest period of time with minimal disruption to ongoing repair and new construction work, said the Navy in a statement.
The Navy awarded a contract for the heavy lift of USS Fitzgerald to Patriot Shipping, based out of Houston, Texas. The heavy-lift will be completed by November 2017.
USS Fitzgerald was launched in 1993 at Bath Iron Works in Maine. HII and Bath Iron Works are the only two shipyards building Arleigh Burke-class destroyers for the U.S. Navy.
Earlier this month, HII launched the Arleigh Burke-class guided missile destroyer Delbert D. Black (DDG 119). To date, the yard has delivered 29 Arleigh Burke-class destroyers to the U.S. Navy. USS John Finn (DDG 113) was commissioned on July 15. Other destroyers currently under construction at Ingalls include Paul Ignatius (DDG 117), Frank E. Petersen Jr. (DDG 121) and Lenah H. Sutcliffe Higbee (DDG 123).