USCG Recovers Additional Wreckage from Titan Submersible Near Titanic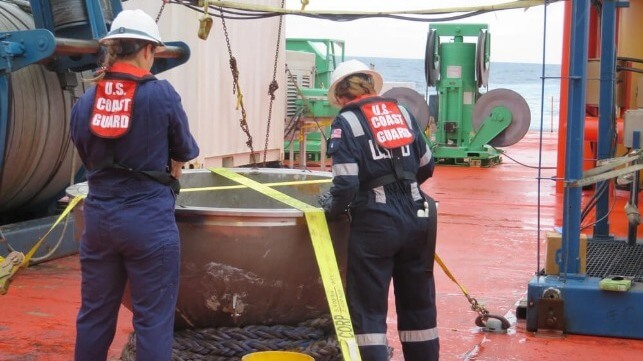 The U.S. Coast Guard reports that additional wreckage and possible additional human remains were recently recovered from the Titan, the submersible that was lost diving to the wreck site of the ocean liner Titanic in June 2023.
The recovery was part of the ongoing investigations by multiple U.S. and Canadian agencies into the loss of the submarine that killed the five people. The debris field was initially located on June 22 and the U.S. Coast Guard initially received debris and evidence recovered from the seafloor when the Horizon Arctic returned to St. John's, Newfoundland, on June 28.
Marine safety engineers with the Coast Guard's Marine Board of Investigation (MBI) recovered and transferred to the Coast Guard on October 4 material which they termed "remaining Titan submersible debris and evidence" from the North Atlantic seafloor.
The sole picture released by the Coast Guard shows what is reported to be the aft titanium endcap from Titan. It was recovered on October 1 from the ocean floor.
The recovered evidence was then transferred to an unnamed U.S. port for cataloging and analysis. Additional presumed human remains were recovered from within Titan's debris and transported for analysis by U.S. medical professionals.
The salvage mission, which was conducted under an existing agreement with the U.S. Navy Supervisor of Salvage & Diving, was a follow-up to initial recovery operations following the loss of the Titan submersible. Investigators from the U.S. National Transportation Safety Board (NTSB) and the Transportation Safety Board of Canada joined the salvage expedition as part of their respective safety investigations.
The MBI is coordinating with NTSB and other international investigative agencies to schedule a joint evidence review of recovered Titan debris. The Coast Guard reports that this review session will help determine the next steps for necessary forensic testing. The MBI will continue evidence analysis and witness interviews ahead of a public hearing regarding this tragedy.
The Titan was carrying three individuals who had paid for the excursion to the wreck site of the famed ocean liner along with the CEO of Titan's operator, OceanGate, who was in command of the dive, and experienced diver and Titanic research PH Nargeolet who was onboard to assist the submersible's pilot. The wreckage was located after several days of intensive searching approximately 1,600 feet from the bow of the Titanic in an area that was described to be flat bottom and free of debris from the Titanic.
The U.S. Coast Guard has taken possession of all the debris located at the wreck site.