Ukraine, NATO in Talks Over Naval Escorts Through Kerch Strait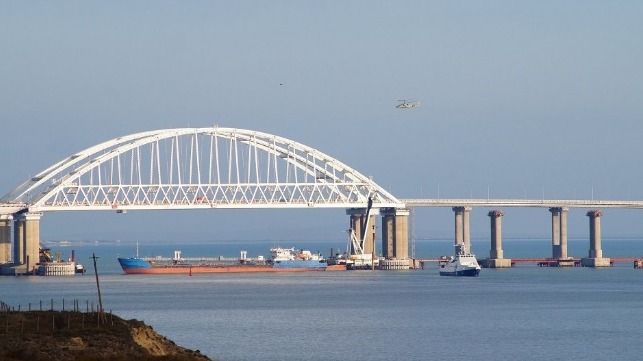 Ukraine is negotiating with NATO over the possibility of a deployment of NATO naval vessels to escort Ukrainian ships through the Kerch Strait, the narrow body of water that connects the Black Sea and the Sea of Azov. Russia has de facto control over traffic through the strait, and it has implemented a customs inspection regime which has slowed merchant traffic to and from Ukraine's Sea of Azov ports.
Alexander Turchinov, secretary of Ukraine's National Security and Defence Council, confirmed to TASS this week that negotiations are under way.
If NATO decided to provide escort support for Ukrainian vessels, assets are already nearby. The U.S. Navy has rotated destroyers through the Black Sea in recent months to maintain a constant presence. USS Ross (DDG 71) took over the rotation this month and called at Varna, Bulgaria on April 15.
The Montreux Convention, the international treaty governing the Bosporus, lays restrictions on the presence of foreign warships in the Black Sea. These terms include a 21-day time limit for warships from non-Black Sea states, meaning that individual NATO surface combatants cannot stay within the Black Sea for more than three weeks at a time.
Kerch Strait incident
On November 25, 2018, Russian forces opened fire on three Ukrainian Navy vessels near the Kerch Strait, causing damage and injuring six crewmembers. Russia's Federal Security Service captured the three vessels, the Ukrainian patrol boats Berdiansk and Nikopol and the tugboat Yany Kapu, and brought them to Russian-occupied Crimea.
Russian authorities are holding all 24 members of the vessels' crews at a jail near Moscow. While the sailors are foreign military servicemembers, they are not being treated as prisoners of war; instead, they face civilian criminal charges of "violating the Russian border." The Lefortovo District Court in Moscow recently extended their pre-trial detention until August 25.
"The investigation is ongoing, the degree of [the Ukrainian sailors'] fault can and must be determined by court," said Kremlin spokesman Dmitry Peskov on Friday.
Western leaders have called for Russia to return the captured vessels, release the sailors and respect international law regarding freedom of navigation.