UK Plans to Temporarily Waive Customs Checks on EU Goods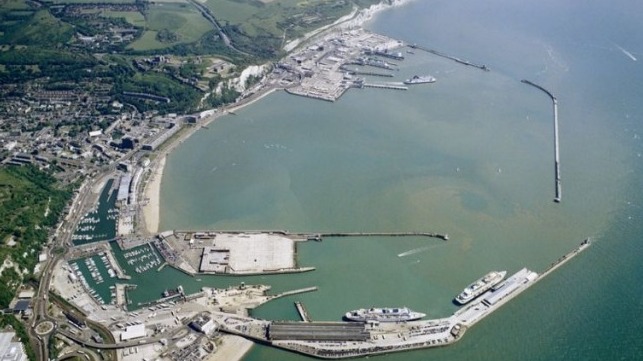 The government of UK Prime Minister Theresa May is making bold unilateral moves to avoid the potential impact of a "no-deal" Brexit on Britain's seaports. Her administration has already contracted with three freight ferry operators for extra cross-Channel capacity, and on Monday, it announced that most truck-borne EU goods will not be subjected to time-consuming inspections upon arrival.
In the event of a "no-deal" Brexit, British customs officials "will allow most goods moving from [20] listed roll on roll off locations to leave the UK port or train station before you've told us that the goods have arrived," HM Revenue and Customs told importers in guidance released Monday. Importers will have until the end of the next working day to provide notice to customs. These "transitional simplified procedures" are temporary, and HMRC will review them after three to six months.
The measure will take some of the pressure off of the UK's busy cross-Channel seaports - especially Dover - which have warned of significant delays in the event of a "no-deal" Brexit. Dover has long warned that even brief customs checks on arriving trucks could lead to serious congestion problems at the port.
Last October, Brittany Ferries CEO Christophe Mathieu predicted that the UK might drop customs inspections on its own if it could not negotiate a post-Brexit trade agreement with the EU. "The British may take a pragmatic approach and wave lorries through upon arrival into the UK," he said. "But cross-Channel trade works both ways. In a worst case scenario, British hauliers carrying refrigerated goods could face the prospect of far longer journeys – perhaps hundreds of additional miles – to find a French port equipped to process their consignment. When they finally get there they could encounter further delays waiting for checks to take place."
May has yet to negotiate a transition agreement that satisfies both the EU and Britain's parliament, and the odds of an abrupt exit from the European Union are rising as the March 29 deadline approaches. A previously announced plan to charter in additional ferries is said to have fallen short of the target for 20 percent of additional ro-ro freight capacity, raising the prospect that other measures may be required.