U.S. Provides Port Security for Papua New Guinea Summit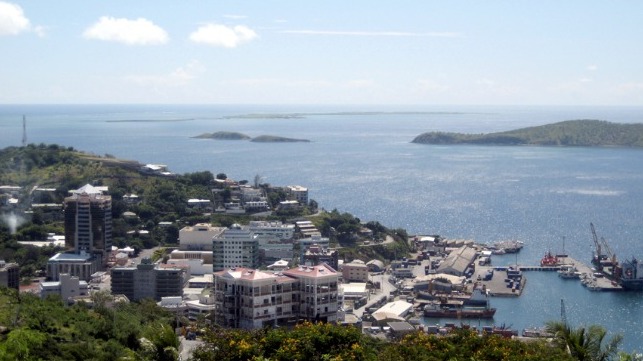 U.S. Coast Guard service members are deploying overseas to provide port security for the upcoming Asia-Pacific Economic Cooperation (APEC) summit in Papua New Guinea, which begins November 12. U.S. Ambassador to PNG Catherine Ebert-Gray and PNG Police Commissioner Gary Baki have signed a rare MOU authorizing the United States to enforce security zones in Port Moresby's harbor during the summit.
Leaders and senior officials from 21 member nations are scheduled to attend, including U.S. Vice President Mike Pence. "With dignitaries arriving from the twenty-one APEC economies, the United States and the U.S. Coast Guard is happy to offer its support in providing safety and security operations to . . . protect Papua New Guinea ports, waterways and coastal areas during this significant international event," said Ambassador Ebert-Gray.
The Coast Guard is deploying small boats and nearly 100 servicemembers to provide port security, waterside protection and anti-terrorism capabilities for the summit. The security teams will work in coordination with PNG Police and partner nations' security forces.
Due to long-running gang violence, Port Moresby has historically ranked among the most dangerous cities in the world. The U.S. Overseas Security Advisory Council (OSAC) advises that Western travelers should take precautionary measures when visiting Port Moresby, and the Department of State assesses that the city is a critical threat location for crime directed at or affecting official U.S. interests.
The APEC security mission in Port Moresby is one of several Coast Guard joint operations int the Western Pacific. The service is also engaged in the Oceania Maritime Security Initiative, with law enforcement detachments deployed on U.S. Navy vessels to help Pacific nations to protect their EEZs and combat illegal fishing.
"The United States is a Pacific nation," said Vice Adm. Linda Fagan, U.S. Coast Guard Pacific Area Commander. "We have deep and long-standing ties to our partners in the region, and more importantly, we share a strong commitment to a rules-based international system that promotes peace, security and shared prosperity."