U.S. Navy Seabees Harden Base Against Gunfire in Gulfport, Mississippi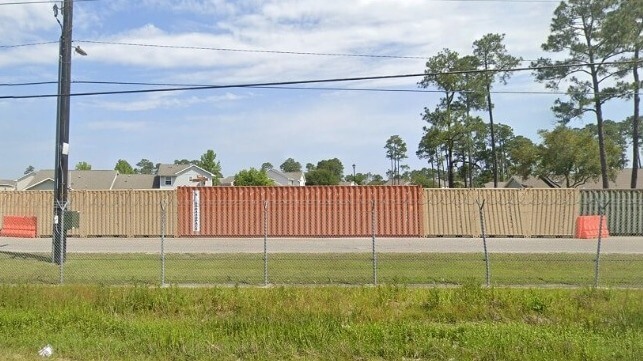 Facing a persistent security threat around its perimeter, a U.S. Navy support base has set up a blockade of shipping containers to prevent stray bullets from harming personnel and dependents - not in Iraq, but in Gulfport, Mississippi.
Naval Construction Battalion Center (NCBC) Gulfport is located on the city's west side. Its primary mission is support for the Naval Construction Forces, also known as the "Fighting Seabees," and it is known locally as the "Seabee Base." A neighborhood of detached single-family homes sits at the southwest corner of the base, just across the street from the William Bell Apartments, a HUD-subsidized affordable housing complex constructed in 1970.
Though Gulfport is safer than the state capital of Jackson, it has an elevated crime rate overall, approximately twice the national average. Gunfire in low-income neighborhoods in Gulfport is a regular occurrence, including periodic armed confrontations at the William Bell complex. The perpetrators are often teenagers, including one 16-year-old arrested last year at the apartment complex for a fatal shooting.
In a recent incident, "one of the bullets, or several bullets, struck one of the houses over there" on the Seabee base, Gulfport Councilman Kenneth Casey told local WLOX earlier this year. (NBC gave the number of naval base houses struck by stray gunfire as five separate units.)
In response to the violence, base security patrols have been increased, and the street intersection nearest the threat has been blocked off with shipping containers. The improvised barricade runs the length of the block, and is long and tall enough to stop most stray fire from the direction of the apartment complex. The installation is a temporary measure, and the base may upgrade to a permanent concrete wall at a future point, a spokesperson told media.
Across the street, the William Bell Apartments have added extra security guards and have banned non-resident parking at a space nearby in an attempt to reduce loitering.
The operator of the William Bell complex also faces a lawsuit over a deadly fire which claimed the life of two children and injured four other people earlier this year. The family of the victims claims that the smoke detectors in the space were inoperable before the fire.