U.S. Deploys Ballistic-Missile Sub to Busan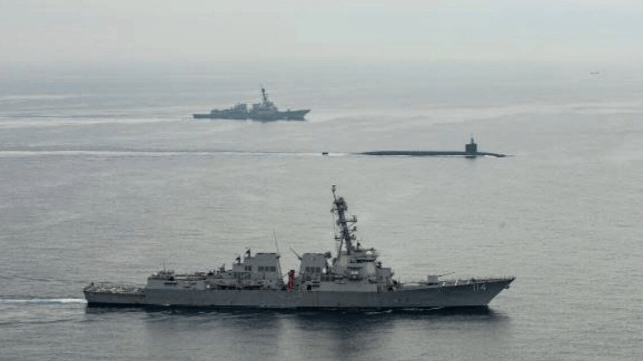 The U.S. Department of Defense has dispatched a nuclear-capable ballistic missile submarine to appear at the Port of Busan in a rare public display. The port call coincided with the first meeting of a new nuclear working group aimed at countering the North Korean nuclear threat.
The "boomer" USS Kentucky surfaced and entered the port of Busan on Tuesday, escorted by two U.S. Navy destroyers. It is the first time that an American SSBN has called in South Korea in 40 years. The sub's armament could include up to 20 Trident ballistic missiles and 80 nuclear warheads; as a matter of policy, the U.S. Navy does not confirm whether any specific SSBN is carrying nuclear weapons.
A near-sister ship, the USS Michigan, arrived in Busan last month - but Michigan is a conversion, fitted with conventional Tomahawk cruise missiles.
USS Kentucky arrives at Port of Busan (U.S. Strategic Command)
Until the end of the Cold War, the U.S. maintained a small arsenal of nuclear weapons in South Korea to ensure against North Korean attack. That stockpile was withdrawn in 1991. With Pyongyang investing heavily in nuclear arms and ballistic missile technology, South Korean leaders have contemplated building their own nuclear weapons as a countermeasure. In April, the Biden administration negotiated an alternative with South Korean President Yoon Suk-yeol: if South Korea agreed not to develop a nuclear bomb of its own, the U.S. would make a more visible effort to deter North Korea. The agreement includes a newly-formed Nuclear Consultative Group (NCG), which gives South Korea a voice in planning for the use of nuclear arms on the peninsula in the event of a conflict.
The terms of the deal also included a port call by a ballistic-missile sub in South Korea. SSBNs usually remain silent and hidden, protecting their nuclear deterrent capability through stealth. A U.S. Navy SSBN could carry out its mission against a North Korean target from most locations in the Pacific - but the sub's physical presence in Busan was an important element of signaling for South Korean leadership. According to U.S. Forces Korea, the port call reflects "the United States' ironclad commitment to the Republic of Korea for our extended deterrence guarantee." As an added measure, the call was timed to coincide with the first meeting of the new Nuclear Consultative Group.
On Tuesday, in an apparent response to USS Kentucky's arrival, North Korea launched two ballistic missiles into the Sea of Japan.