Shell Funds Offshore Wind Research at Former Avondale Shipyard Site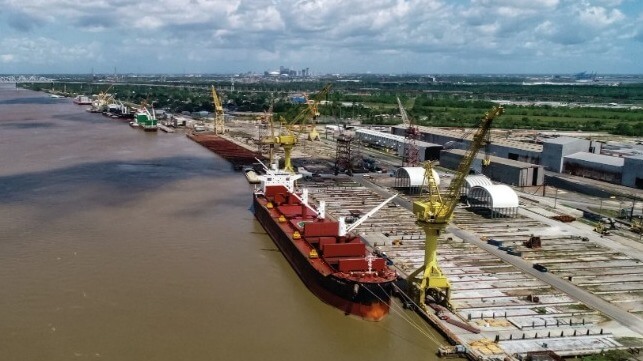 Louisiana-based company Gulf Wind Technology has secured funding from Shell to set up a wind power research and training facility at the former Avondale Shipyard site, a storied location which is ready for redevelopment.
With $10 million in backing from Shell, Gulf Wind plans to hire 30 people and found a new hub for offshore wind R&D in the region.
Gulf Wind has experience in improving the economic performance of operational wind farms and conducting research on rotor technology, primarily for onshore applications. It is headquartered at Avondale, with 30,000 square feet of workspace and access to 1.5 million additional square feet for fabrication. The new R&D program will be an expansion of its activities.
The company says that an investment in R&D for designing custom rotors - its primary area off experience - will be useful when it comes to adapting offshore turbines to the unique conditions in the Gulf.
"Wind resources in the Gulf region are more variable than what you find on the east coast where most of U.S. offshore wind development activity is currently happening," said James Martin, GWT's CEO. "Seasonal hurricane conditions and moderate average wind speeds create a situation that requires a novel approach to the application of technology and the framework in which it is both developed and demonstrated. The Shell Gulf Wind Technology Accelerator program has been specifically created to address and fulfill this need."
The first demonstrator turbine at the site is expected to be ready as early as next year. In addition to its R&D work, the program weill also house an offshore wind workforce education and training initiative.
To get the project built in Avondale, the state of Louisiana offered Gulf Wind Technology a workforce development incentive package, including a $375,000 award to support site infrastructure improvements. The company is also expected to participate in two state tax exemption programs.
The news is a big boost for the former Avondale Shipyard, renamed Avondale Global Gateway under the ownership of terminal operator and stevedoring company T. Parker Host.
"When we took the risk of transforming Avondale shipyards, this is exactly the type of progress and partnership we envisioned. With hundreds of acres of laydown space for equipment like offshore wind blades, our site is the ideal location for this type of groundbreaking investment," said T. Parker Host CEO and President Adam Anderson. "We had a vision of Avondale Global Gateway becoming the first offshore wind hub on the Gulf Coast and with the launch of this partnership, we are quickly making this a reality."
Last month, the Port of South Louisiana agreed to buy and further redevelop the Avondale site, and the port's management welcomed the news that Gulf Wind will be expanding.
"Today's announcement from Gulf Wind Technology and Shell is confirmation that Avondale is open for business and attracting commerce and investment from the world's most recognizable organizations," said Port of South Louisiana CEO Paul Matthews. "This is just the beginning. We look forward to fostering more development and job creation as Avondale Global Gateway's new owner."
T. Parker Host purchased Avondale from Huntington Ingalls in 2018 for $60 million and invested over $100 million more in its redevelopment. It has agreed to sell the site to the Port of South Louisiana for $445 million, reflecting upgraded expectations of the complex's future business opportunities.