S. Korea's Hanwha Ocean Goes to Vietnam to Find More Workers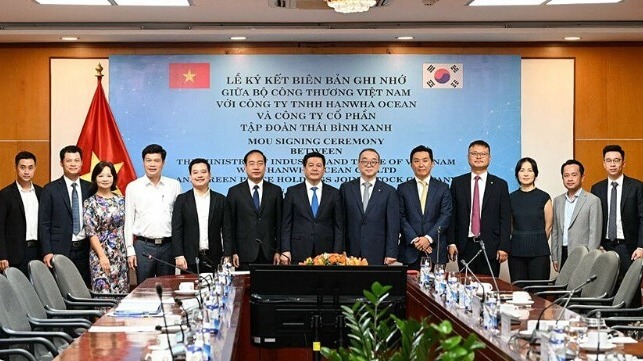 Faced with a persistent labor shortage at home, South Korean shipbuilders are competing in a tight market for skilled welders and shipfitters from Southeast Asia, and they are taking creative steps to succeed. In an effort to improve access and strengthen its hiring pipeline, Hanwha Ocean - formerly the Big Three shipbuilder DSME - has signed an agreement with Vietnam's Ministry of Industry and Trade on cooperation in hiring.
During the last shipbuilding downturn in the 2010s, East Asian yards laid off tens of thousands of workers, and finding new replacements at home has proven difficult. South Korea is plugging the gap by hiring in from other countries, primarily in Southeast Asia. In Thailand alone, South Korean shipbuilders have signaled interest in recruiting 4,500 new skilled workers this year, according to the Thai Ministry of Labor.
Vietnam is the largest source nation, since it has a well-established shipbuilding workforce in its own domestic industry, and it has supplied about half of the inbound guest workers in the Korean shipbuilding industry over the last year. HD Hyundai got a head start in Vietnam decades ago by setting up a satellite shipyard near Nha Trang, and it can leverage its Vietnam-based labor pool to fill needs at its South Korean yards.
Hanwha Ocean has gone directly to the Vietnamese government for assistance in building a steady flow of guest workers. On Saturday, Hanwha Ocean executives signed an MOU with Vietnam's Ministry of Industry and Trade for "comprehensive cooperation" on training and recruiting shipyard workers.
The objective is to help Hanwha meet its staffing needs by investing in Vietnam's vocational training schools. Through this, Hanwha Ocean hopes to set up a continuous recruitment program for skilled Vietnamese workers.
"It is expected that it will present an effective plan to resolve the manpower shortage in the Korean shipbuilding industry in the future and play a role as a bridge to promote comprehensive cooperation between Korea and Vietnam," predicted Hanwha Ocean.
South Korean shipbuilders expect that they will need to recruit more than 35,000 new workers by 2025 in order to meet booming demand and fulfill bulging orderbooks. Partnerships like Hanwha's may help to meet that need, and could also bring more regularity and clarity to the guest worker market in South Korea. In the last quarter of 2022, more than 1,000 Vietnamese workers were turned back by immigration officials because their training credentials and paperwork had been forged. South Korea requires at least two years of relevant work experience for its guest worker visa program, and an investigation revealed that some employment brokers had been fabricating these records.