[Photos] Russia's Northernmost Base Operational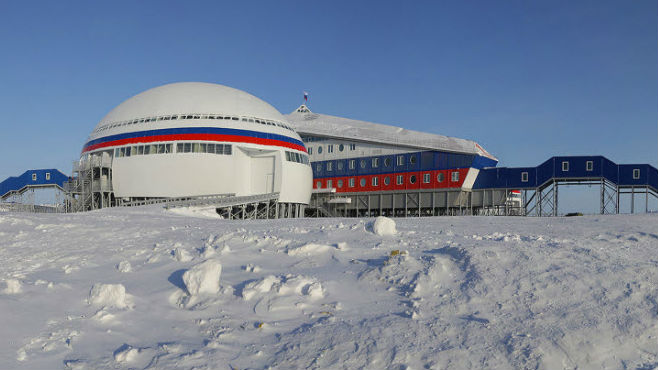 The Russian Defense Ministry has released pictures of its newly-completed and northernmost base, the
Nagurskoye Military Complex on Franz Josef Land.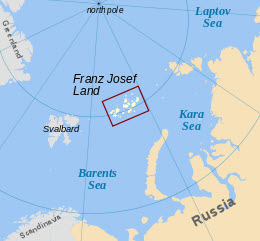 The 14,000 square meter base has been built on Alexandra Land, the northernmost of the islands of Franz Josef Land. Located at 80 degrees north, Nagurskoye is the largest manmade structure so far north.
The base can host up to 150 soldiers, and the pictures show accommodation areas rather than military infrastructure.
Russia plans to boost its military and economic presence in the Arctic. This includes development of infrastructure and deepwater ports along the Northern Sea Route, developing oil and gas fields on the Yamal Peninsula, placing a floating nuclear power plant in Pevek and opening Arctic nature reserves for foreign tourist expedition vessels.
In the past two years, Russia has opened six military bases in the Arctic. Late last year, Russia's Northern Fleet began operations at a base in the New Siberian Islands. This was the nation's northernmost base until Nagurskoye became operational.
Additionally, Russia has established two new Arctic defense forces to boost security along the Northern Sea Route. A network of airfields and monitoring stations is under construction in the Arctic to improve air defenses, and three ballistic missiles were tested in the Arctic last year.
Russia is currently building several nuclear-powered icebreakers. The lead ship, Arktika, was launched last year. During the winter, the ice along the Northern Sea Route varies in thickness from 1.2 to 2.0 meters (3.9 to 6.5 feet). The ice in central parts of the Arctic Ocean is on average 2.5 meters (8.2 feet) thick. Arktika-class icebreakers can force through this ice at speeds up to 10 knots.
The nation is now said to be designing a super-icebreaker capable of navigating through ice four to five meters (16 feet) thick.
Russian President Vladimir Putin visited the new Nagurskoye Military Complex in March.