Princess Cruises to Homeport in Port Canaveral for First Time in 2024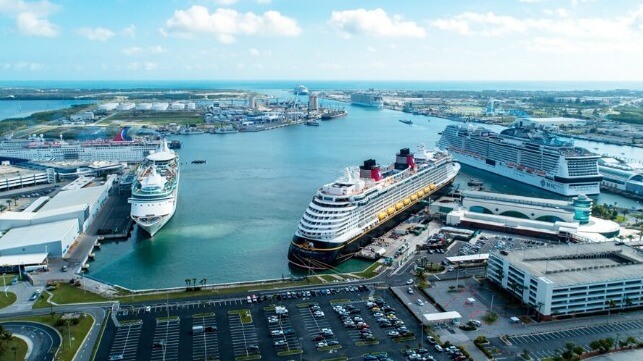 Princess Cruises, long known as the Love Boats, announced plans to homeport its first cruise ship in Port Canaveral, Florida for a seasonal deployment in the winter of 2024-205. It will be the first time in the 60-year history of the cruise line that it has positioned a ship in central Florida and follows the trend to homeport cruise ships at more ports to offer "closer to home" travel for customers.
At a press event in Port Canaveral on May 9, Princess Cruises said the Caribbean Princess (112,894 gross tons), which will be 20 years old when it arrives in Port Canaveral, will operate a series of 38 cruises to the Bahamas and the Caribbean between November 2024 and April 2025. The ship has previously been homeported mostly in Port Everglades, although she will be cruising to Canada and New England between July and October 2023 and to Europe between May and November 2024. Her repositioning from Port Everglades north to Port Canaveral is being made possible by the introduction of Princess's largest cruise ship, Sun Princess (175,500 gross tons), currently under construction at Fincantieri and scheduled to sail from Port Everglades starting in October 2024.
"The combination of a vibrant Central Florida community, exceptional flight options into Orlando International Airport, and great pre-cruise and post-cruise options make Port Canaveral an easy choice," said John Padgett, president of Princess Cruises.
The deployment of a ship to central Florida follows the cruise line's expansion of homeports for the recently completed winter 2022-20023 season. The Ruby Princess was homeported between December 2022 and April 2023 in Galveston, Texas, marking the first time in six years the cruise line had sailed from the port. In addition, Princess returned to San Diego, California between September 2022 and February 2023 with the Diamond Princess.
"Our collaboration with Princess Cruises marks an exciting milestone for us," said Captain John Murray, CEO of Port Canaveral during the press event. Murray highlighted the strong growth of the cruise business for the port. The addition of Princess as a seasonal operation is expected to be followed shortly by the announcement of another cruise ship that will be homeporting year-round at Port Canaveral. They also recently added Marella Cruises, which is basing its Marella Discovery at the port for a fly-cruise program from the UK for the summer of 2023. MSC also began homeporting at the port in 2021 and along with Carnival Cruise Line and Royal Caribbean, each line has recently sent larger ships to the port.
Murray reports in six months this year Port Canaveral had 3.4 million passengers. They are predicting that the port is on track to break its FY 2022 record when it became the largest homeport handling nearly 4.1 million passengers and surpassing PortMiami which had just over 4.0 million passengers.
Port officials recently updated their forecast for 2023 saying they will have over 900 cruise ship port calls, versus 792 last year. They had originally projected 5.8 million passengers but Murry reports they are now expanding their target to handle 6.4 million passengers, rivaling or surpassing Miami's all-time record set before the pandemic.
Strategizing for the continued growth, port officials also recently told their port commission that they are increasing their revenue forecast from cruise and cruise-related activities to $150 million up 20 percent from the previous forecast. Cruise activities are expected to represent more than 80 percent of the port's total revenues this fiscal year.
Port Canaveral has also begun planning for its seventh cruise terminal, one that would be large enough to handle the world's largest cruise ships. They are currently considering four possible locations on the south side of the port. The new terminal is projected to cost $175 million and open in late 2026.