Port Rashid Receives Five Cruise Ships in a Day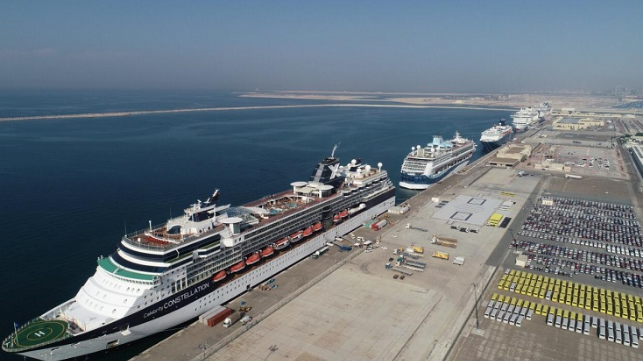 Port Rashid in the UAE received five international cruise liners on the same day at the Dubai Cruise Terminal earlier in December.
The cruise ships, Marella Discovery, AIDAprima, MSC Splendida, Horizon (Pullmantur Cruises) and Celebrity Constellation, brought over 25,000 tourists that day.
For three of the vessels, Marella Discovery, AIDAprima and Horizon, it was their maiden call to Dubai, and three of the cruise lines will be homeporting in Dubai for the full season, operating regular Arabian Gulf voyages. The other ships will be docking in the city for excursions and passenger turnaround as a part of their longer international programs.
AIDAprima with 16 calls in the 2018/19 season is expected to bring over 60,000 cruise tourists to Dubai and Pullmantur Cruises marked its debut in the region with its cruise ship Horizon and is set to welcome over 45,000 cruise tourists via 14 calls to Dubai during the ongoing season. MSC Cruises will deploy two ships in the region with Dubai as its homeport for the first time with a total of 28 calls will bring in over 120,000 cruise tourists.
Port Rashid has received a growing number of cruise passengers over the last few years. The number of cruise tourists to Dubai has doubled since 2014 from 320,000 in 2013-2014 season to 625,000 in 2016-2017. The number of cruises to Dubai grew by 68 percent from 93 in 2013-2014 season to 156 cruises in 2016-2017. Around 1.9 million cruise passengers have made it to Dubai between 2013-2014 to 2016-2017 on 489 cruise liners.
The recently formed Dubai Cruise Committee has been working to raise the profile of Dubai as a leading destination for winter sun cruising. Dubai's cruise industry is set for a strong performance throughout the 2018/2019 season, with 725,000 cruise tourists expected.