Photos: Suez Canal Recovers Tug After Collision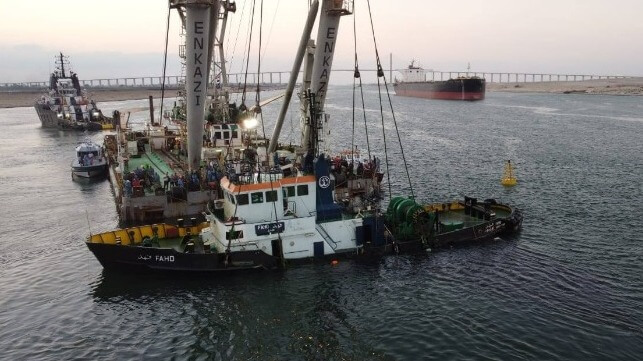 The Suez Canal Authority reported that the salvage operation for the tug that sunk in an accident on Saturday was completed after three days of recovery work. The operation was a success lifting the vessel from a depth of up to 88 feet while also maintaining navigation in the Suez Canal.
The tug Fahd was in collision with the LPG carrier Chinagas Legend at kilometer 51.3 on August 5. The tug's hull was breached and it sank following the collision trapping the chief engineer below deck. His body was recovered on Sunday by the divers while the five other crewmembers were taken to a local hospital for treatment. All but one of the crewmembers were reported released from the hospital.
Adm. Ossama Rabiee, Chairman and Managing Director of the Suez Canal Authority, announced that divers had been quickly able to locate the tug and marked it for the safety of navigation in the Suez Canal. He however reported that they had faced several challenges including working at depths between 79 and 88.6 feet, which required pressure re-adjustment rooms and limited the divers' time working at the wreck site. He said they also encountered intense water currents and a lack of visibility.
A heavy lift crane with a capacity of 500 tons was brought in to recover the tug which was 508 feet in length. The vessel was built in 1976 and normally operated out of Port Said.
The head of the authority praised the efforts of the marine rescue team and all the workers participating in the rescue operation from the various departments. He said thanks to their combined efforts they were able to complete the marine rescue work efficiently and within record time without affecting the navigation movement in the canal.
The operation included placing buoys to mark the location and navigation hazard. It took the divers an hour to string each of the recovery wires from the crane and attach it to the tug and another 30 minutes to winch each wire tight. A total of eight wires were attached for the lifting operation.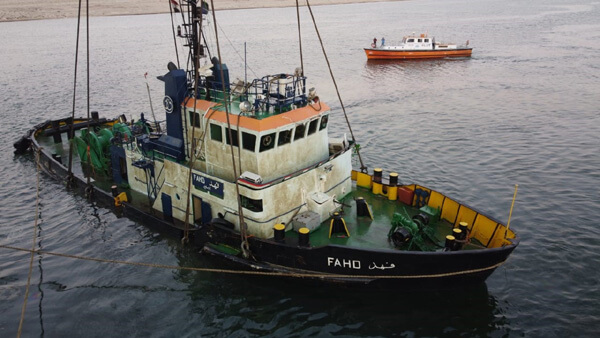 Navigation in the canal resumed on Sunday using a bypass for the northbound convoys. Southbound traffic was not affected. On Sunday, they reported that 38 northbound ships were able to make the transit while the salvage operation was underway. A total of 146 ships transited on Monday and Tuesday in both directions and as of Tuesday evening, the navigational restrictions have been fully removed.
The LNG carrier Chinagas Legend was not damaged but its AIS signal shows that it remains in the anchorage at Port Said. The investigation into the circumstances of the collision is ongoing.