Pacific Northwest Ferry Operators Switch to Cleaner Fuels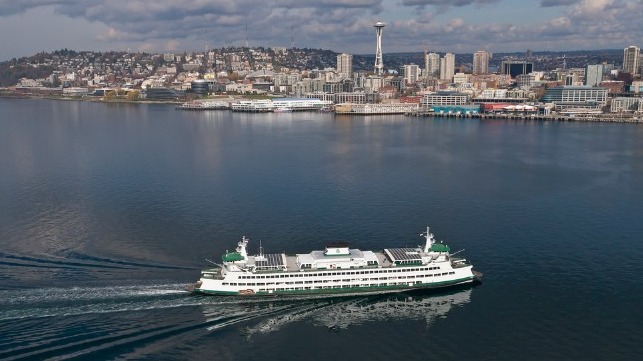 LNG and electric propulsion are gaining traction for passenger vessels in the Pacific Northwest. Last year, B.C. Ferries began service with a new class of three LNG-fueled ferries. Private B.C. operator Seaspan Ferries took delivery of two LNG-fueled, hybrid-propulsion vessels at about the same time. Now, neighboring ferry services in Alaska and Washington are also considering green alternatives to replace or upgrade their diesel-powered vessels.
The Alaska Marine Highway System's general manager, Capt. John Falvey, recently told Alaska Public Radio that two new small ships for the Juneau-Haines-Skagway run will be fitted with dual-fuel engines, and the existing ferry Matanuska is getting a repower that will leave her with a similar capability. Further down the road, if equipment costs come down, shorter routes in Prince William Sound could be candidates for Norwegian-style all-electric ferries.
To the south, Washington State Ferries has a mandate from the state legislature to look into converting some of its vessels to all-electric propulsion. This year's budget includes $600,000 to examine the possibility of battery-power conversions for the Tacoma, the Wenatchee and the Puyallup, WSF's three largest ferries. All three already have electric propulsion drives, which could simplify the conversion.
"We've done pre-design studies already to look at the vessels, terminals and the charging," said WSF director of vessels Matt von Ruden, speaking to Northwest News. "We're ready now to move forward to actually engage industry on the solution." A spokesman for the agency told local media that the conversions could be complete in as little as five years' time.
Local authorities in Skagit County, an hour's drive north of Seattle, want to move quickly on electric propulsion as well. The county operates a small diesel-powered ferry on the 1,100-yard run between Anacortes, Washington and Guemes Island. The vessel has been making the same short trip for 38 years, and county commissioner Ken Dahlstedt told Crosscut that he wants to replace it with an electric model. However, the cost could be prohibitive: a battery-powered ferry and its charging infrastructure could be up to 60 percent more than a new diesel ferry.