Odfjell Designs Large Floating Wind Foundation for Harsh Environments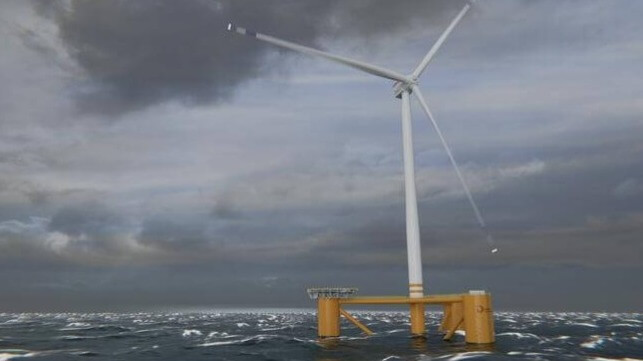 As offshore wind projects seek to move further out to sea they face the challenge of adapting to floating foundations. While the efforts hold the potential to open broader areas for wind power generation, the designs will need to be able to sustain operations in harsh environments.
Norway's Odfjell Oceanwind unveiled its design for a floating wind foundation that would be able to accommodate 15 MW and larger turbines while operating in harsh environments. The company cites projects planned for offshore Scotland as possible applications of the technology.
Odfjell said that while developing its semi-floating platform for 12 MW wind turbines and gaining DNV approval for the basic design they realized that it would be challenging to scale the semi-submersible floater to support 15 MW or larger turbines. The 12 MW design places the turbine at one corner whereas the 15 MW design moves the tower to the center of the structure. According to the engineers, it also reduces the total weight of the foundation.
"With the Deepsea Star we have compiled Odfjell's 50 years of learnings from operating semisubmersible structures in harsh environment conditions with 20 years' experience in designing floating wind solutions," says Per Lund, CEO of Odfjell Oceanwind. "Stepping up to the 15MW WTGs makes floating wind relevant for larger utility scale wind parks and will be a significant contribution to lowering the LCOE in the coming years."
Know as the Deepsea Star, the design is currently undergoing Basic Design Approval from DNV based on Siemens Gamesa's SG 14-236 DD. Odfjell says the basic design was developed on a multi-location basis which includes the harshest environment locations relevant for floating offshore wind globally.
The center tower reduces the required displacement which gives many benefits like reduced draft at the quayside, lower environmental loads acting on the structure, and reduced overall steel weight, according to Eystein Borgen, CTO for Odfjell and one of the designers for the new foundation. He said the design enables the installation of the tower and turbine on a floating structure. The bracing structures transfer the loads efficiently between the satellite columns and the tower. These loads are extreme for harsh environments and large WTGs, in particular when considering load scenarios like cross-sea waves and "split forces" acting between the columns, torsion loads from the tower, and mooring line failures.
The Deepsea Star design is also scalable to larger wind turbines up to 21 MW, which Odfjell expects will be available by 2029 or 2030. Model testing for the design has been completed and the design team is now working with wind turbine companies and DNV to complete the qualification process to achieve the Basic Design Approval. They expect the foundation will be available from 2025 when 15 MW turbines are expected to become available for floating wind projects.