Oceaneering Joins the Robotic-Survey Revolution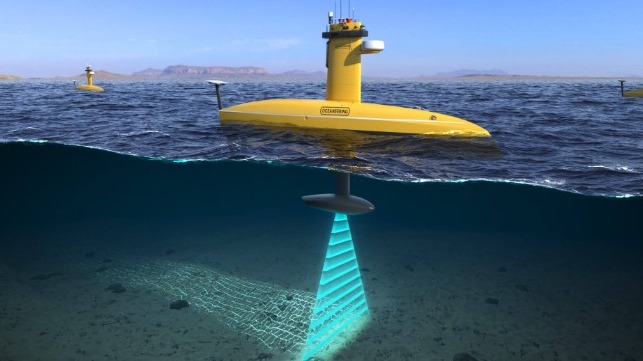 Veteran subsea robotics company Oceaneering has joined the crowd of organizations pursuing uncrewed survey technology, following early adopters and developers like Nauticus, NOAA, Saildrone, Reach Subsea and Ocean Infinity.
Oceaneering announced Tuesday that its subsea robotics division has acquired one uncrewed surface vessel (USV) to support its contracts for survey work. Oceaneering is buying a DriX USV from manufacturer Exail, and it will be used for deepwater geophysical surveys and asset inspections. The task set will also include supporting autonomous underwater vehicle positioning.
"The DriX allows us to remotely gather the same high-quality data at a lower operational impact, without the need for an offshore-based crew. This reduces health, safety, and environmental risks while freeing up multi-service vessels to complete other tasks," said Oceaneering SVP Martin McDonald in a statement.
DriX has a long track record for a commercial USV. It has been in operation since 2016 and has racked up several thousand hours' worth of proven experience, including patrol work for the U.S. Navy in the Middle East and fishery survey trials for NOAA. It is capable of over-the-horizon, AI-controlled operations, and can continue to collect quality survey data in conditions up to sea state 5.
The vessel has a small diesel engine and can operate at relatively high speed, accelerating survey acquisition times, according to Oceaneering. However, it sips fuel when compared to a full-size manned survey vessel, reducing cost and carbon.
Oceaneering says that the addition of a USV is a welcome complement to its existing portfolio of remotely-operated systems. The firm has been piloting ROVs from shore bases since 2016, removing about 9,000 personnel sea-days and accomplishing about 100,000 hours of operation over the period.
Oceaneering's entry into the unmanned-vessel field is at a smaller scale than some of its competitors. Ocean Infinity has gone all-in on minimally-manned or unmanned survey technology, building what it describes as an "armada" of more than a dozen oceangoing vessels designed to conduct subsea services without any crew aboard. Reach Subsea is pursuing a similar path with an order for two midsize unmanned subsea-service vessels. And Houston-based autonomous vessel developer Nauticus Robotics has plans to build 20 USV/AUV pairs to do much the same kind of survey, maintenance and subsea intervention work that makes up Oceaneering's main line of business.