NY Pushes Forward with Offshore Wind with First Install and Upcoming RFP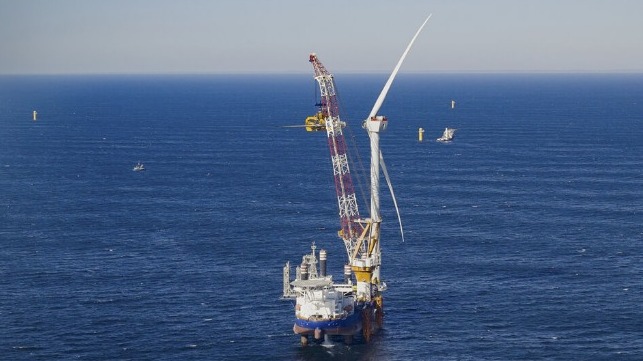 New York State is working to push forward with its ambitious plans for the offshore wind energy sector after several recent setbacks. Governor Kathy Hochul is using every opportunity to highlight progress and the state's efforts to expedite alternative energy including positive news from developer Ørsted after the company announced massive impairment charges due to challenges in the U.S. offshore wind sector and other major developers backed away from planned projects for New York.
New York is targeting 9 GW of offshore wind energy by 2035 with state officials highlighting New York that the state has three conditional awards for offshore wind. New York also has one of the two first large-scale offshore wind projects in the United States under construction.
Ørsted and development partner Eversource Energy reported today that the first turbine has been successfully installed at South Fork Wind, New York's first commercial-scale offshore farm. The first of South Fork Wind's 12 Siemens Gamesa wind turbine generators was hoisted into place by the offshore construction team at the project site 35 miles off Montauk, N.Y. and when the installation is completed by the end of 2023 or early 2024 it will have a capacity for 130 MW. They are highlighting the project will power approximately 70,000 homes and eliminate up to six million tons of carbon emissions over a 25-year period.
The first installation in New York comes about a month after Avangrid, part of the Iberdrola Group, and Copenhagen Infrastructure Partners highlighted the successful installation of the first GE Haliade-X Wind Turbine Generator (WTG) at their Vineyard Wind 1 project in nearby Massachusetts. The project, which is also targeting the end of 2023 for completion of the installation, will consist of 62 wind turbines to generate 806 MW, enough to power more than 400,000 homes and businesses in Massachusetts.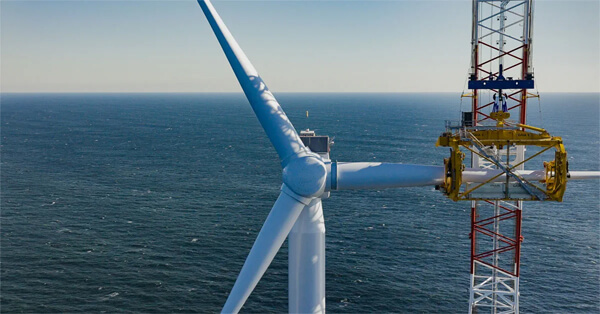 South Fork's first wind turbine installed by Van Oord's vessel Aeolus (NY State released)
New York looks to regain its momentum with several additional steps. The government reported that they will launch their next Request for Proposals for offshore wind and land-based renewable energy on November 30. Companies will have till January 25, 2024, to submit proposals, and results are expected to be released by the end of February. Details will be released with the launch next week as they have not yet announced if there will be changes or considerations to the changed economics of the industry.
A month ago, the New York State Public Service Commission refused applications from Empire Offshore Wind and Beacon Wind, being developed by Equinor and BP, and Sunrise Wind, being developed by Ørsted, to reprice their previously agreed power purchase agreements. Each of the petitions had requested an order from the commission that would have directed the New York power regulator New York State Energy Research and Development Authority (NYSERDA) to incorporate an adjustment mechanism into existing Renewable Energy Credit and the offshore wind power purchase agreements.
New York reported that the projects that previously petitioned the New York State Public Service Commission for financial relief can choose to participate in the upcoming round. They, however, said the solicitation will emphasize competition between those and other projects, to "ensure the integrity of the process and best value for New York electricity consumers." Combined those three projects that will need to compete in the next round represent more than 3 MW of the governor's offshore wind plan. The decision to make the projects rebid also came days after the governor vetoed a bill that would have expedited the offshore efforts for power cables from the wind farms.
One of the projects recently designated by New York to proceed into negotiations is Attentive Energy One with co-developers TotalEnergies, Rise Light & Power, and Corio Generation, highlighting last week their efforts to move forward. It is one of the sites awarded in the 2022 federal auction of the New York Bight. Located some 50 miles south of Long Island and east of Long Beach Island, New Jersey, it calls for a 3 GW development. One of the unique features the developers are highlighting would be converting a 60-year-old onshore generating station into an onshore operation for the wind farm with an underwater transmission cable. New York selected the first phase which is for 1.4 GW to proceed with negotiations with the New York State Energy Research and Development Authority (NYSERDA) for an offtake agreement.
The next test for New York's plans will come when the details are released for the next round of solicitations and how the developers respond to the proposals.