Irish Company to Deploy Wave Energy Buoy in Hawaii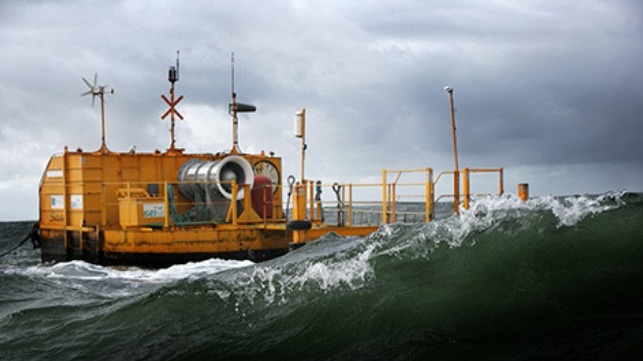 The Irish company Ocean Energy has announced that its wave energy convertor OE Buoy will be built by Oregon-based Vigor and deployed at the U.S. Navy's Wave Energy Test Site on the windward coast of the Hawaiian Island of O'ahu in the fall of 2018. The contract value is $6.5 million out of a total project value of $12 million for what is the first grid-scale project at the site.
The 826-ton OE Buoy measures 125 by 59 feet (38 by 18 meters) with a draft of 31 feet (nine meters) and has a potential rated capacity of up to 1.25MW in electrical power production. Each deployed commercial device could reduce CO2 emissions by over 3,600 tons annually, which for a utility-scale wave farm of 100MW could amount to over 180,000 tons of CO2 in a full year. It is estimated that a 100MW wave farm could power up to 18,750 American homes.
The $12million project is part-funded by the U.S. Department of Energy's office of Energy Efficiency and Renewable Energy and the Sustainable Energy Authority of Ireland, under an agreement committing the American and Irish governments to collaborating on marine hydrokinetic technologies.
The project underscores the increasing significance of the bilateral economic relationship between Ireland and the U.S., say the project partners. In 2017, Irish businesses employed more than 100,000 people in the U.S. Wave energy has a market potential of over $18 billion to Ireland's economy by 2050. Similarly, the U.S. has a substantial wave energy resource, which could deliver up to 15 percent of its annual electricity demand. In Oregon, the estimated potential value to the local economy is $2.4 billion per annum with an associated 13,630 jobs.
The OE Buoy has been designed around the oscillating water column principle. To ensure survivability the platform has only a single moving part:
The OE Buoy has already been deployed in Atlantic waters for three years of testing: