Grounded Wreck Breaks Up off American Samoa
The Chui Zai Fa No. 1, the Taiwanese longliner that went aground in American Samoa on Monday, has broken up in the surf zone off Leone Bay, Tutuila.
The Coast Guard estimates that the 88-foot fishing vessel had as much as 30,000 gallons of diesel on board at the time it went onto the reef, based on its estimated tank capacity. Light sheening has been reported in the vicinity of the wreck.
Responders were not able to address the spill on Friday because of the approach of Tropical Cyclone Gita. As of Friday afternoon, the storm's center was about 55 nm to the south of the Independent State of Samoa (west of American Samoa) and moving east-southeast at 15 knots. Maximum sustained winds at Tutuila are expected to peak Friday at 50 knots, with gusts to 60 knots.
In anticipation of the storm, the Coast Guard Captain of the Port has closed the main port of Pago Pago and has suspended any in-port operations without prior authorization. Gita is strengthening as it moves east, and the heavy weather is expected to generate extreme sea conditions, storm surge and high surf throughout American Samoa. Surf heights are forecast to reach 15-18 feet through Sunday.
The Coast Guard cautioned that the Chui Zai Fa wreck site is especially dangerous due to heavy surf and the compromised integrity of the vessel's hull. Response personnel have been withdrawn temporarily, and officials cautioned citizens to stay clear of the area.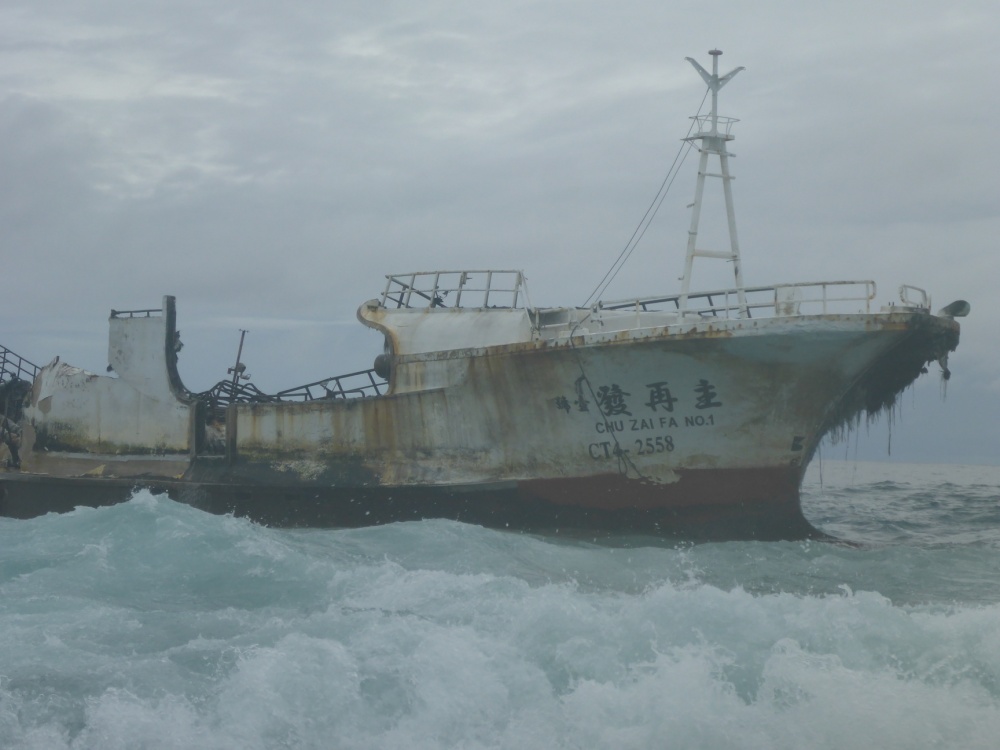 The Chui Zai Fa caught fire in international waters on November 4, forcing most of her crew to abandon ship into a life raft. The survivors were rescued by a Korean vessel and transferred to another Taiwanese vessel, which carried them to Fiji. However, her master and one additional fisherman remain missing.
The burned wreck of the Chui Zai Fa remained afloat and abandoned until Monday, when it found the southwestern shores of Tutuila. The Coast Guard said in a statement that the owner has taken responsibility for the grounding and provided significant financial resources to mitigate any potential effects.