Fremantle Highway Moved as Salvage Teams Prepare to Board Ship
The salvage team working with the Dutch authorities is preparing to board the fire-damaged Fremantle Highway car carrier to develop the next phase of the salvage plan. This comes as the fire appears to have largely died out and they were able to complete the move of the hulk to a more sheltered area away from the main shipping lanes.
The hulk of the Fremantle Highway is now positioned approximately 10 miles north of Schiermonnikoog and Ameland on the North Sea. The Ministry of Water and Infrastructure cautions that a final port is not yet known saying that this is a temporary holding position where the vessel can be anchored.
As soon as possible, they said a team from the recovery operation will go aboard the vessel to carry out an inspection. Depending on the situation on board the ship, the expected weather conditions, and an available port with the right facilities, a decision will be made on what to do with the hulk.
They were able to move the ship approximately 40 miles to the east starting on Sunday afternoon. With more favorable weather and tide conditions, they reached the location late morning on Monday soon than originally anticipated. They emphasized that the ship remains attached to two tugs with tow lines and the oil recovery ship continues to stand by.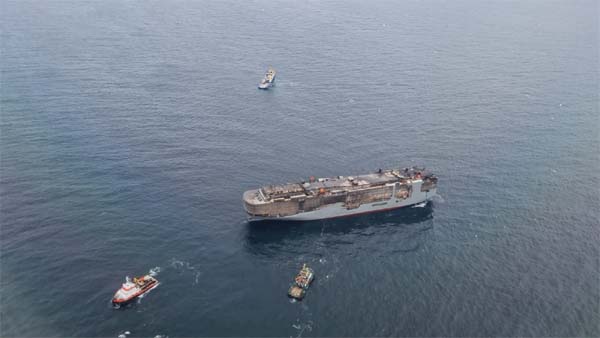 Smoke from the ship also remained minimal during the tow which they reported as a favorable development and a further sign the fire has dissipated. Plans to have begun moving the ship on Saturday, we delayed when the smoke from the fire was being blown in the direction of the towing tugboats. Concern was raised for the safety of the crews if they were to be enveloped in the smoke.
Starting late last week they reported the temperature aboard the Fremantle Highway had dropped indicating the fire was subsiding. Pictures however show increased blistering on the exterior of the ship giving a sense of how extensively the fire spread through the car carrier.
The current position of the hulk is more sheltered from the winds and sea conditions which the authorities hope will help in the next phase of the operation. From its current position, the nearest ports are Eemshaven on the Dutch side and Emden on the German side. Wilhelmshaven would be further, but the German authorities told local media that they were prepared to assist if asked.