Former CEO of Alaska Telecom Company Pleads Guilty To Fraud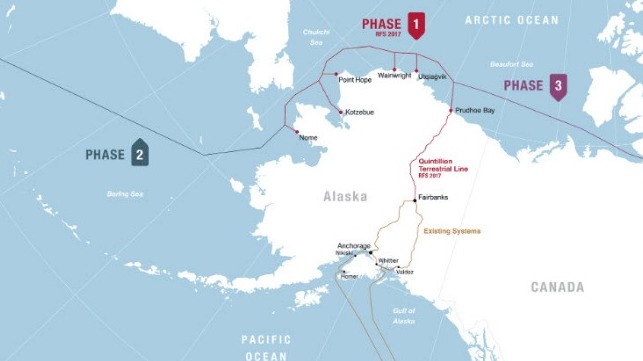 Elizabeth Ann Pierce, the former Chief Executive Officer of a telecommunications company based in Anchorage, Alaska, pled guilty in Manhattan federal court to wire fraud and aggravated identity theft on Monday.
The plea was made in connection with a scheme to use forged guaranteed revenue contracts fraudulently to induce investors to invest more than $250 million into her company for the construction of a fiber optic cable network in Alaska.
Pierce was the chief executive officer of Quintillion until July 2017. The company built, operates and markets a high-speed fiber optic cable system consisting of three segments: a subsea segment that spans the Alaskan Arctic; a terrestrial segment that runs north to south along the Dalton Highway; and a land-based network of fibers that connects the subsea and terrestrial segments. The system is connected to the lower 48 states through other existing networks.
According to court documents, between May 2015 and July 2017, Pierce engaged in a scheme to induce two investment companies to provide more than $250 million to construct the fiber optic cable system by providing them with eight forged broadband capacity sales contracts and related order forms under which Quintillion would obtain guaranteed revenue once the system was built. Under the fake revenue agreements, four telecommunications services companies appeared to have made binding commitments to purchase specific wholesale quantities of capacity from Quintillion at specified prices that amounted to over $24 million during the first year of the subsea segment's operation, approximately $10 million during the first year of the terrestrial segment's operation, and approximately $1 billion over the life of the fake agreements.
In reality, the agreements were worthless because Pierce had forged the counterparties' signatures. Some of the agreements never existed at all, others were falsified versions of genuine revenue agreements made more favorable to Quintillion and, therefore, more appealing to investors than the genuine agreements.
After the terrestrial system was built, Pierce attempted to prevent the discovery of the fake revenue agreements by accelerating the timing of incoming payments under certain genuine agreements to make those payments appear to be based on the fake agreements. Pierce also sought to prevent Quintillion and the investors from invoicing one of the customers that had no real contract with Quintillion by fabricating e-mail correspondence Pierce purportedly had with that customer.
Pierce's scheme started to unravel when a customer disputed invoices that it received from Quintillion pursuant to one of the fake agreements. Shortly thereafter, in the midst of Quintillion's internal investigation, Pierce abruptly resigned. Quintillion self-reported Pierce's conduct to the Department of Justice.
Pierce, age 55, now of Austin, Texas, pled guilty to one count of wire fraud, which carries a maximum sentence of 20 years in prison, and eight counts of aggravated identity theft, each of which carries a mandatory two-year term of imprisonment, of which at least two years must be consecutive to any term of imprisonment imposed on the wire fraud count.
Pierce is scheduled to be sentenced by U.S. District Judge Edgardo Ramos on May 16, 2019.