"External" Forces Caused Finnish Subsea Pipeline Breach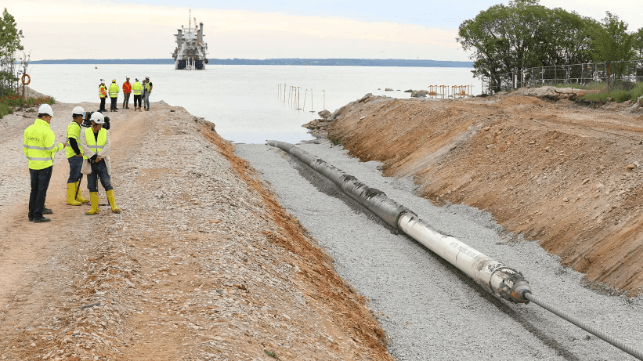 The government of Finland said Tuesday that it has cause to believe that the recent damage to the Finland-Estonia subsea gas pipeline may have been caused by "external" forces. A subsea telecom cable was also damaged at about the same time.
"It is likely that the damage to both the gas pipeline and the communication cable is the result of external activity. The cause of the damage is not yet clear; the investigation continues in cooperation between Finland and Estonia," said Finnish President Sauli Niinisto in a statement. "NATO is ready to assist in the investigations. Finland is prepared, and our readiness is good. These events have no effect on our supply security."
"According to a preliminary assessment, the observed damage could not have occurred as a result of normal use of the pipe or pressure fluctuations," added Prime Minister Petteri Orpo at a press conference Tuesday.
The news of damage to a strategic European gas pipeline has drawn attention from security analysts, especially since the timing falls just before the start of the winter heating season. Finland's government has emphasized that its gas grid is well-supplied without the pipeline; Estonia can draw on its terrestrial pipeline connections to Latvia.
A similar strike on a strategic pipeline occurred almost exactly one year ago: On September 26, 2022, a clandestine attack on pipeline infrastructure near the Danish island of Bornholm destroyed three out of the four pipelines in Gazprom's Nord Stream network. Unlike the last attack, no seismic signals indicating an explosive blast have been detected by earthquake monitoring stations in the region.
At a separate press conference in Tallinn, Estonian Defense Minister Hanno Pevkur added that the damage to the pipeline was so "massive" that it could not have been done by a "diver or small underwater robot."
Finland joined NATO in April, over strenuous objections from Russia, and the pipeline damage is an early test of its newly-formed alliance. "NATO is ready to assist in the investigations. Finland is prepared, and our readiness is good. These events have no effect on our supply security," said Niinisto.
When Finland joined NATO after decades of formal non-alignment, it added more than 800 miles to the length of Russia's land border with the Western military alliance. The Kremlin views the decision as a strategic threat and has promised to retaliate against Finland with "military-technical" measures.
"Russia will be forced to take retaliatory steps, both of a military-technical and other nature, in order to stop the threats to its national security that arise in this regard," the Russian foreign ministry said in a statement in April.
While the culprit has not been identified, Finnish authorities believe that it was an actor with a high degree of technical sophistication. "A sabotage of this caliber requires a certain amount of know-how and special equipment. It's probably not ordinary people who were behind this," said Timo Kilpeläinen, head of the NBI's Investigation Department.