Direct Holland–Norway Cruise-Ferry Service Goes Bankrupt and Ends Sailings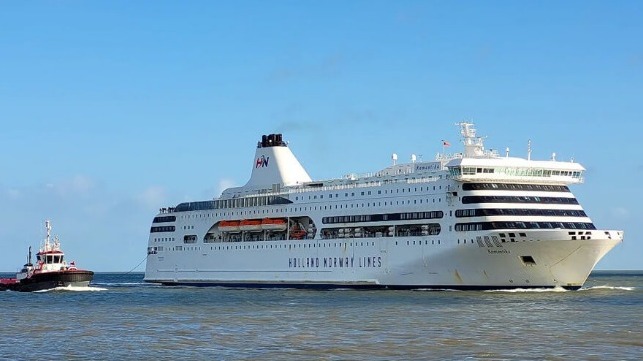 Holland Norway Lines, a startup European ferry operator that began sailing in April 2022 was declared bankrupt ending its operations. While many European ferry operators have reported financial pressures in part from the pandemic and changed travel regulations, this company is citing problems with its port operations and being forced out of its Dutch terminus earlier this year.
"There are no more prospects for continued operations," the company said yesterday. Placed into administration by the Dutch courts, 400 employees were laid off. Holland Norway Lines had said on August 31 that it had applied for a suspension of payments reporting its business operations were under pressure, partly due to financial losses at the beginning of the year.
Planning for the company started in 2020 with the operation set to become the first direct cruise-ferry connection between Holland and Norway. Management had high expectations for the operation announcing in November 2021 that "Our aim is to become Holland's largest shipping line for international passenger, goods and freight between Holland and Norway and one of Europe's leading short sea shipping lines."
The operation began in April 2022 using the chartered Tallink Grupp ferry Romantika. Built in 2001, Tallink had chartered the ferry to operate as an accommodation ship housing Ukrainian refugees in Glasgow. When the charter was completed early in 2022 the vessel was refurbished with accommodations for 1,500 passengers. Holland Norway Lines reported it had a three-year charter with an initial option for one additional year. The ship was sailing three times a week between Eemshaven, the Netherlands and Kristiansand, Norway.
"The cause of the pressure on the still young company's operations lies mainly in the troubled period at the beginning of this year due to the forced departure from Eemshaven," they wrote in a statement on August 31. They cited extra costs for the operation and cancellations before they were able to relocate the operation. The ship was briefly sailing from Cuxhaven, Germany to Norway, and as of June 1, switched to Emden, Germany to Norway.
Holland Norway Lines said that no potential candidate had come forward to take over its operation. Tallink terminated the charter effective September 1, and on Monday, Holland Norway Lines filed for bankruptcy.
Approximately 75,000 people are being impacted who have reservations for future sailings. That represented more than 50 fully booked trips for the Romantika. Since the operation began, the company reported nearly 400,000 passengers had sailed on its cruise ferry.