Canada's Oldest Laker Towed to Port with Uncertain Future After a Fire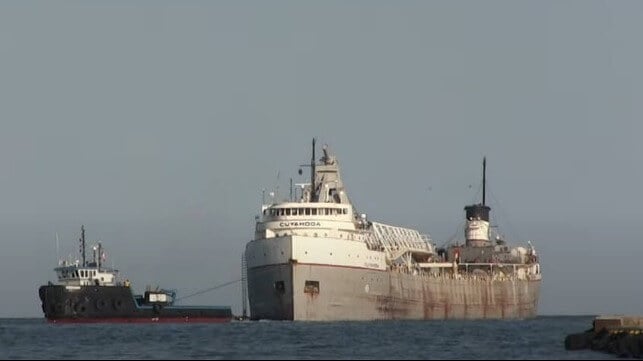 Canada's oldest vessel operating on the Great Lakes may have had her career come to an unceremonious end Tuesday night, May 23, after a fire broke out in the engine room of the 80-year-old Cuyahoga. The vessel was towed to port today and so far, her owners, Lower Lakes Towing, part of Rand Logistics, have not publicly commented on the ship's fate.
The U.S. and Canadian Coast Guards responded to reports of the engine room fire aboard the vessel on Tuesday evening. She had been in the U.S. at Saginaw, Michigan, and in Ohio before heading back across Lake Erie. Near Point Pelee, Ontario, Canada, the vessel was disabled by the fire.
A spokesperson for the U.S. Coast Guard reported that they had sent a boat to the scene along with a helicopter to monitor and assist as needed. Their counterparts in Canada handled the response reporting that eight of the 20 crew were removed from the vessel as a safety precaution and transferred to shore.
The crew was able to extinguish the fire but the ship was remaining at anchor apparently disabled. The Coast Guards said no one was injured in the blaze and there were no reports of pollution.
Lake observers caught images of the vessel being towed into Kingsville, Ontario by the McKeil Marine tugs Ecosse and Stormont on the morning of May 26.
While it is not uncommon for lakers to have long lives, and it appears there are still two vessels each a year older in the U.S. registry, the Cuyahoga is considered to be a piece of living history on the lakes. She was built in 1943 as the tenth of a class of sixteen A1 type Maritime Class Bulkers. At the time they were among the most stylish vessels on the lakes featuring the first use of the cruiser stern design and powered by a double compound steam engine.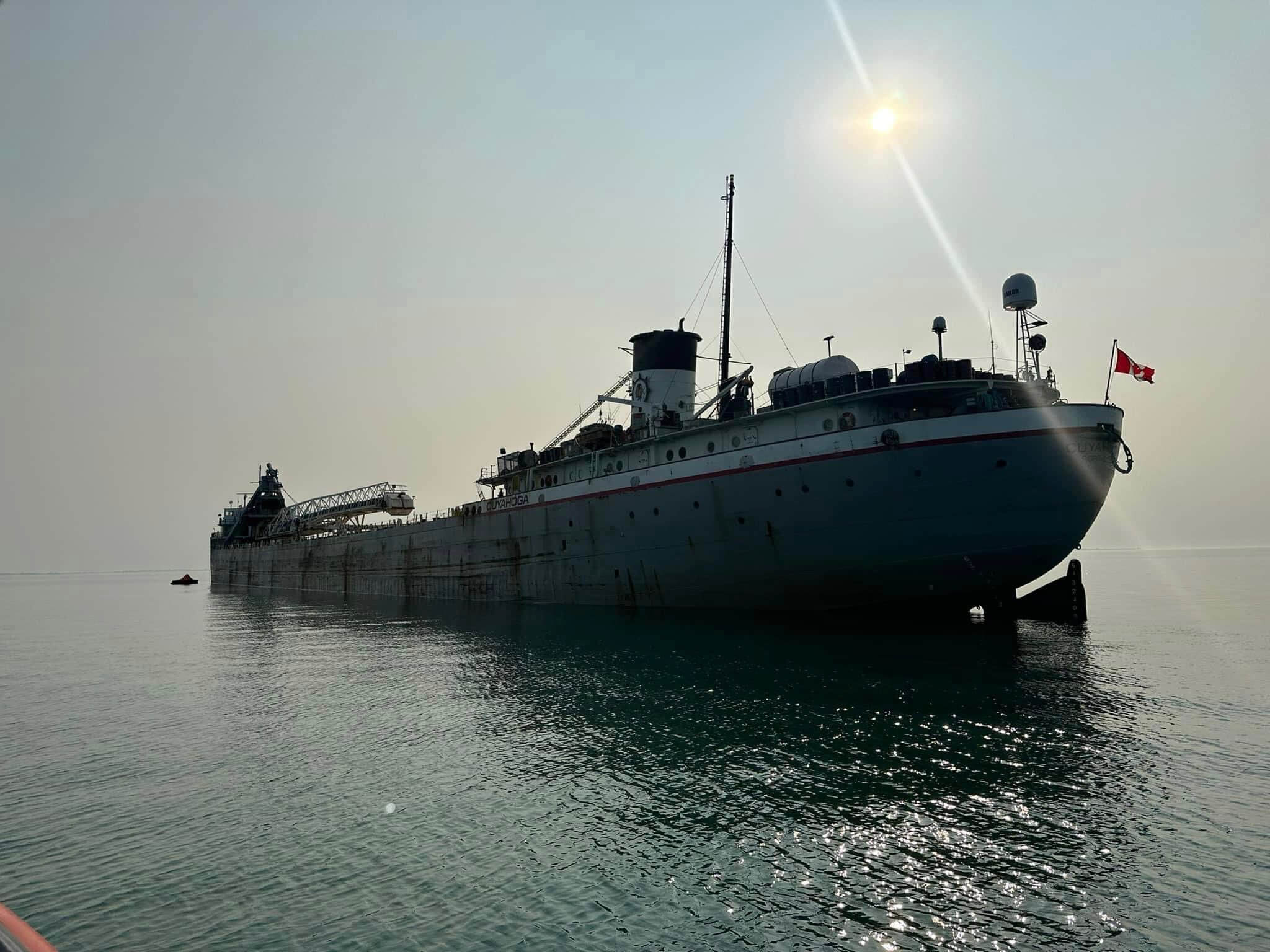 At age 80 Cuyahoga showed off her stylish lines in this USCG photo of her at anchor after the fire (USCG)
Originally known as the J. Burton Ayers, a name she sailed under for 52 years, she was part of a vital World War II supply effort moving much-needed iron ore to the mills supplying the wartime production of tanks, aircraft, and artillery.
She was acquired by Lower Lakes in 1995 and along with a sister ship the Mississagi went on to become the oldest Canadian lakers. Her sister who was just a few months older was retired and scrapped in 2021.
At an overall length of 664 feet, the Cuyahoga has a capacity of 18,000 tons. She was still actively transporting bulk commodities including stone, iron ore, and coal.