Airstrike Kills Al Qaeda Operative Behind USS Cole Attack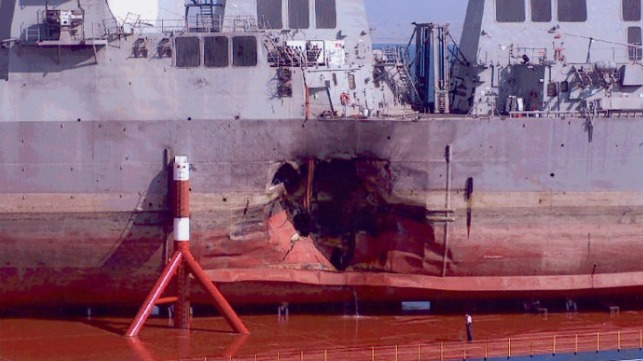 Al Qaeda member Jamal al-Badawi, one of the organizers of the deadly bomb-boat attack on the destroyer USS Cole in 2000, has been killed by an American airstrike.
On October 12, 2000, Al Qaeda terrorists attacked the Arleigh Burke-class destroyer USS Cole using a suicide boat while the Cole was refueling in Aden, Yemen. The explosion left a 40-by-60 foot hole in the port side of the ship, killing 17 sailors and injuring 39 others. Cole's sailors fought fires and flooding for the next four days, and they succeeded in saving their ship.
After the attack, USS Cole was transferred back to the United States on a heavy-lift ship and repaired at Ingalls Shipbuilding. She remains in service today.
U.S. Central Command confirmed Sunday that Jamal al-Badawi - who was previously convicted by a Yemeni court of involvement in the attack - was killed in a strike in Marib governate, Yemen on January 1.
"Jamal al-Badawi was a legacy al Qaeda operative in Yemen involved in the USS Cole bombing. U.S. forces confirmed the results of the strike following a deliberate assessment process," said CENTCOM spokesman Capt. Bill Urban in a statement. "[He] was indicted by a federal grand jury in 2003, charged with 50 counts of various terrorism offenses, including murder of U.S. nationals and murder of U.S. military personnel; was wanted by the U.S. for his role in the Oct. 12, 2000, terrorist attack against USS Cole; and was also charged with attempting with co-conspirators to attack a U.S. Navy vessel in January 2000."
For his role in planning the attack, Jamal al-Badawi was convicted by a Yemeni court and sentenced to 15 years in prison. He escaped from jail in Yemen twice, once in 2004 and again in 2007, and the FBI had issued a $5 million reward for his arrest.
The alleged leader of the USS Cole attack, Abd al-Nashiri, was captured by the CIA in 2002. He is currently held at Guantanamo Bay, Cuba, where a military trial over his alleged involvement is ongoing.