Tanker Capsizes Fishing Vessel Off Scarborough Shoal, Killing Three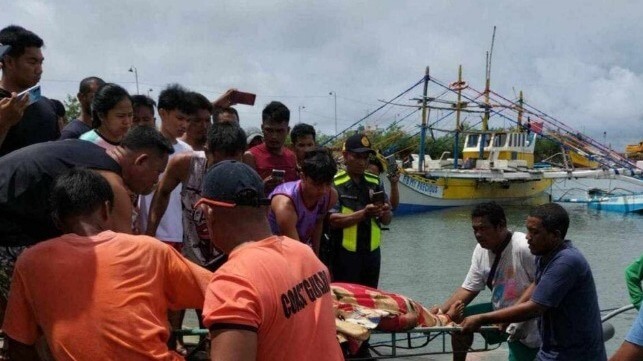 The Philippine Coast Guard (PCG) has reported a fatal ramming involving a merchant vessel and a fishing boat off Scarborough Shoal, a contested reef in the South China Sea.
At about 0420 hours on October 2, the Philippine fishing vessel Dearyn was located about 85 nm to the northwest of Scarborough Shoal, with six crewmembers aboard. Another eight crewmembers were out using the mother vessel's small boats to fish nearby.
In the dark, the crew aboard Dearyn did not notice an approaching vessel. The ship struck Dearyn, causing it to capsize, and three of the fishing vessel's crewmembers were killed, including the captain.
The three survivors of the collision had difficulty in recovering the bodies of the deceased because of rough surface conditions, according to the Philippine Coast Guard. When their crewmates who had been out on small boats and away from the mother vessel returned at about 0800, they worked to retrieve the three bodies from the vessel's submerged pilot house.
Using their small boats, the survivors left the capsized mother vessel behind and navigated to Coast Guard Substation Infanta, 180 nautical miles to the east on the coast of Luzon.
After examining AIS records and listening to the survivors' accounts, the PCG believes that the vessel involved in the collision may have been a foreign-flagged crude oil tanker. The agency plans to reach out to the vessel's flag state and the port state control authority in its next port of call.
The collision occurred in a sensitive location: Philippine fishermen have had serious run-ins with Chinese vessels in and around the Spratly Islands, including a ramming involving a Chinese maritime militia vessel near Reed Bank in 2019. Philippine President Ferdinand Marcos Jr. called for calm while the investigation is under way.
"Currently, the Philippine Coast Guard is backtracking and checking all monitored vessels in the area as part of its ongoing investigation. We assure the victims, their families, and everyone that we will exert every effort to hold accountable those who are responsible for this unfortunate maritime incident," said Marcos. "Let us allow the PCG to do its job and investigate, and let us refrain from engaging in speculation in the meantime."