Russian Navy Eyes Early Retirement for Rare Nuclear Cruiser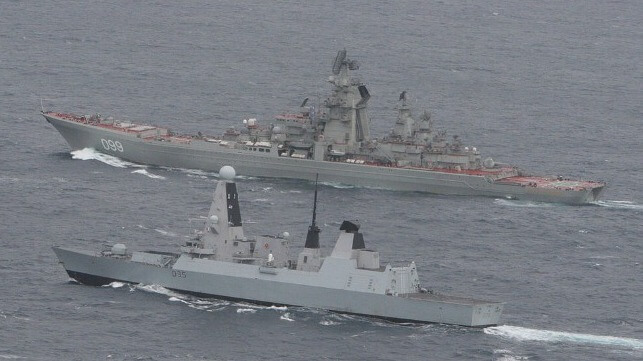 The Russian Navy may retire the Cold War-era nuclear cruiser Pyotr Velikiy, despite previous plans to overhaul her and restore her to service.
The Velikiy (ex name Yuri Andropov) is one of the last members of a rare species of warship: the nuclear-powered cruiser. While several powers operate submarines powered by nuclear propulsion, and two nations operate nuclear-powered aircraft carriers, only Russia still maintains nuclear-powered "line of battle" surface combatants. The U.S. Navy built nine nuclear cruisers over the course of the Cold War, but retired all of them in the 1990s because of their high operating costs.
The same fate may await Pyotr Velikiy, according to state media outlet TASS. Velikiy is the fourth and last of the Kirov-class nuclear cruisers ordered by the Soviet Navy. The Kirov-class are the largest surface combatants in operation, weighing in at 28,000 tonnes - about three times the displacement of a typical destroyer. They were designed to carry 20 massive S-700 Granit anti-ship missiles, each weighing seven tonnes. This outsized munition is capable of delivering an optional nuclear payload.
Velikiy was laid down before the fall of the Berlin Wall, but the dissolution of the USSR and the economic disruption of the years that followed put the brakes on her construction, and she was delivered a decade behind schedule in 1998. By the time Velikiy entered service, all of her sister ships were already in layup or nearing it. The first and second have since been scrapped, and the third, Admiral Nakhimov, was brought out of storage in 2006 for a six-year modernization refit. That project has been hit by decadal delays and is currently on track for completion in 2024.
Pyotr Velikiy has had a more active record in service than her sisters. In 2008, she transited to Venezuela and then circumnavigated Africa on a long-distance diplomatic voyage. In 2010, she steamed all the way to Vladivostok and back for a series of exercises. And in a rare combat mission in 2016, she escorted the aircraft carrier Admiral Kuznetsov during a notorious transit to participate in the Syrian Civil War.
Velikiy has performed well, but she may be retired when sister ship Nakhimov finally returns from her decades-long refit, according to state news outlet TASS. The Velikiy was slated to take Nakhimov's place at Sevmash Shipyard and undergo the same upgrades, but this now appears to be off the table.
"It seems that the experience of repairing and modernizing the Admiral Nakhimov of the same type has shown that this is very costly," a Russian Navy source told TASS. "Currently, the issue of withdrawing Pyotr Velikiy from the Navy is being worked out."