Norden Acquires Thorco Projects to Further Expand in Breakbulk Segment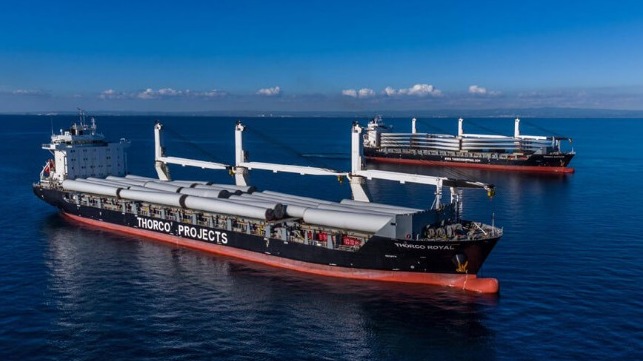 In a further move to expand its business in the general cargo segment, Danish shipping company Norden reported today that it will acquire the Thorco Projects business, a compatriot Danish shipping operation that in recent years has focused on charters and services. Norden emphasizes the strong alignment in the business approaches as it seeks to expand its breakbulk operations.
"There are numerous commercial synergies between the two businesses, including an overlap in Thorco Projects' fronthaul routes and NORDEN's backhaul routes, creating the opportunity for trading route optimization," Norden highlighted in the announcement of the acquisition.
Thorco Projects, which was started 20 years ago as part of the Thornico Group, a Danish family-owned conglomerate, has in recent years transformed into an asset-light business approach. Norden highlights that the company is operating a chartered fleet of predominantly 30 to 40 Handysize vessels and tween deckers, where Norden is a significant operator.
"The acquisition complements Norden's asset-light business model and will contribute positively to margins in Norden's Freight Services & Trading business unit," they wrote in the announcement. They are highlighting the opportunity to gain access to new customers within the general cargo segment such as break bulk, steels, and wind energy. With the acquisition of the Thorco Projects business, Norden highlights that it further grows its customer offering, as Thorco Projects operate within specialist general cargo segments such as break bulk, steel, and wind energy-related cargoes, where multiple cargo parcels from different customers typically are combined into single shipments on Multipurpose and Handysize ships.
"With the tonnage and business tools we have available in Norden, we see significant potential to further grow the Thorco Projects business under the Norden brand," said Jan Rindbo, CEO of Norden.
Earlier this year, Norden said its 2023-2025 strategy was to capitalize on the most attractive opportunities in the market, announcing the acquisition of four Capesize vessels to improve its availability to dry-segment customers. Announced in March, the company did not identify the vessels only saying they had been acquired in two transactions and were expected to be delivered during the coming months.
With the acquisitions, Norden reported it would offer a full-service approach where it was able to support customers across all dry segments with cargo loads between 5,000-200,000 tonnes. They called it attractive market opportunities in a high-exposure segment.
Terms of the Thorco Projects acquisition were not reported. The closing is subject to regulatory clearance and is expected in Q3 2023.