Hapag Celebrates Introduction of its First Ultra Large, LNG-Fueled Boxship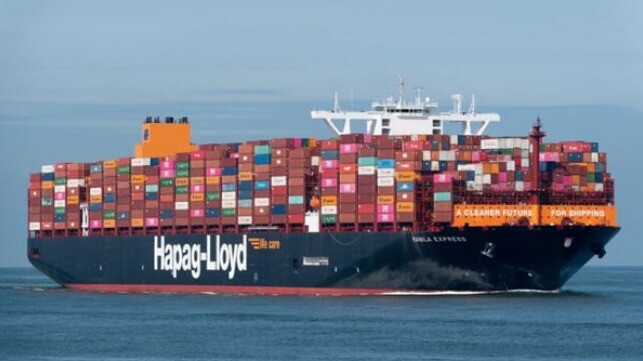 Hapag-Lloyd marked its entry into the ultra large container vessel segment, celebrating the introduction of its first newbuild. The 23,664 TEU Berlin Express was named in Germany today, becoming the largest cargo ship operating under the German flag as well as the company's first LNG newbuild.
"With the new Hamburg Express class, Hapag-Lloyd is at a turning point," CEO Rolf Habben Jansen told the 300 invited guests today at the christening ceremony in Hamburg for the 224,995 dwt vessel. He highlighted its contribution toward Hapag's efforts to have its fleet climate-neutral by 2045 and to build Germany's role in global trade. He called the class the beginning of a new era for Hapag-Lloyd. German First Lady Elke Büdenbender did the honors of naming the vessel.
Hapag ordered six of the ships from Daewoo Shipbuilding and Marine Engineering at the end of 2020 and expanded the order to a total of 12 ships in 2021. They are now being completed by Hanwha Ocean, the successor to Daewoo with the first two ships already delivered and continuing into 2025. Hapag points out that in addition to the improved environmental performance, the ships are also more efficient with a 20 percent larger capacity than its previously largest ships, the A18 class.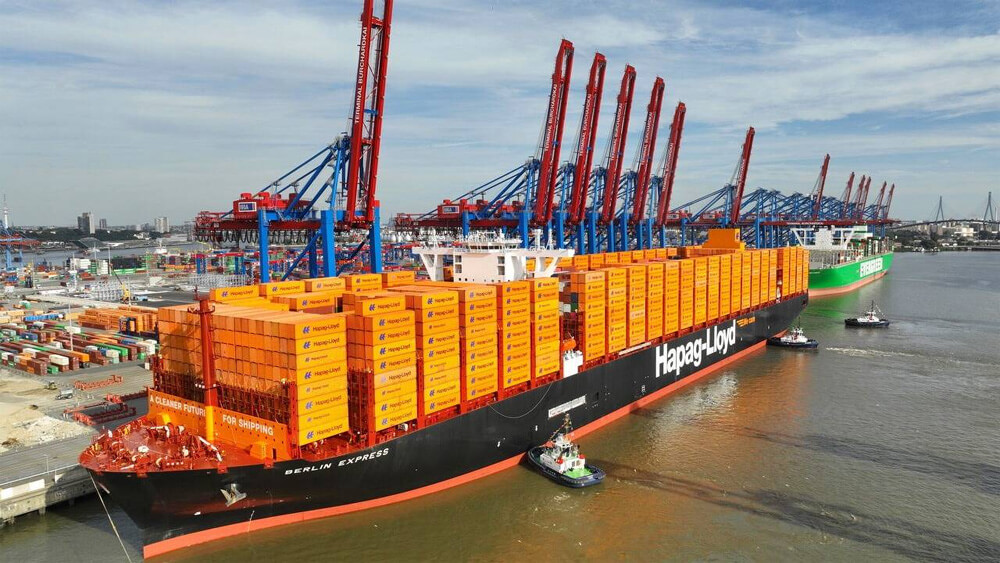 Berlin Express arrived in Hamburg last week (Hapag-Lloyd)
Each of the vessels in the Hamburg Express class will measure 1,309 feet in length with a 200-foot beam. The 23,664 TEU capacity has 1,500 reefer slots. The vessels can achieve a speed of 22 knots using MAN B&W engines and they were outfitted with an 18,650 cbm LNG tank, sufficient for a complete Europe-Asia-Europe roundtrip.
Other features of the design include an optimized hull, highly efficient propellers, and a capability to operate on shore power. They also have a customized lashing and loading system that offers greater flexibility. Containers of different heights can be secured and the stack weight can be optimized. They also employ an advanced navigation and route planning system. Each vessel will be manned by a crew of 27 including two captains.
Hapag highlights that while the vessels will initially be operating on LNG, they are designed for a future fuel transition. The dual-fuel technology will permit them to switch to non-fossil fuels, such as bio-methane and e-methane, as the fuel becomes more readily available.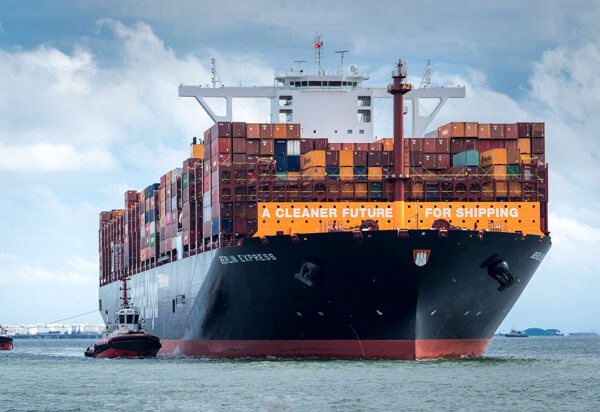 Hapag receives three ships this year and the remainder in 2024 and 2025 (Hapag-Lloyd)
The Berlin Express was delivered to Hapag on June 13, but she was initially employed on the route between Asia and the Middle East. She arrived in Hamburg six days ago and is now moving onto the route that operates between China, with stops in Taiwan, Singapore, Rotterdam, Antwerp, Southampton, Algeciras, and Hong Kong.
The second ship of the class, the Manila Express, was named in South Korea on August 3 and handed over to Hapag. She will be followed by one more ship this year, the Hanoi Express. The future ships are named for Busan, Singapore, Damietta, Hamburg, Gdansk, Bangkok, Rotterdam, Genova, and Wilhelmshaven.
The ships are also part of Hapag's growth efforts. Currently, ranked fifth by capacity, Hapag operates 260 vessels with a capacity of over 1.9 million TEU.