Greenpeace Boards Heavy-Lift Vessel to Protest Offshore Oil Operations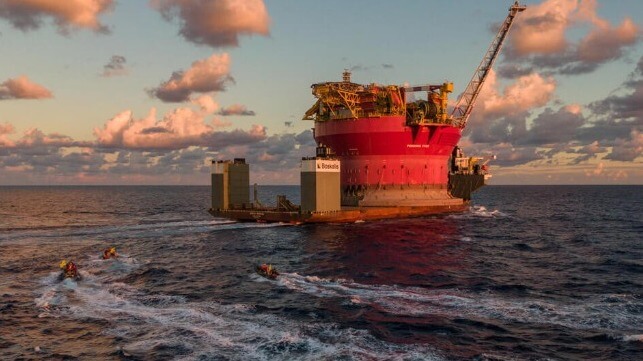 Four Greenpeace activists boarded an underway heavy-lift vessel carry an FPSO unit for saying they will occupy the equipment to call attention to their demands to stop offshore oil drilling. They unfurled a banner reading "Stop Drilling. Start Paying."
The 72,000 dwt heavy lift vessel White Marlin was last reported off the coast of Morocco in the Atlantic just north of the Canary Islands. It is showing an AIS destination of Norway while Greenpeace is reported that the vessel and the FPSO are on the way to the Penguins field northeast of the Shetland Islands in the North Sea.
"We're taking action today because when Shell extracts fossil fuels it causes a ripple of death, destruction and displacement around the world," said Yeb Saño, executive director of Greenpeace Southeast AsiSo who is now on board the Greepeace vessel Arctic Sunrise. "We will take them on at sea, at shareholder meetings, in the courtroom, online, and at their headquarters. We won't stop until we get climate justice. We will make polluters pay."
Reports indicate the incident began at 8am [GMT] on Tuesday, January 31. The protestors launched from Greenpeace's Arctic Sunrise and approached the 710-foot long heavy lift vessel which was underway with the AIS signal showing it was making 8 knots.
(Click photo to see Greepeace video of the boarding underway. © Greenpeace)
The protestors were in three small boats and used ropes to climb on the deck near the FPSO. Greenpeace released drone footage showing the boarding.
The four activists – Carlos Marcelo Bariggi Amara, from Argentina; Yakup Çetinkaya, from Turkey; Imogen Michel from the UK; and Usnea Granger from the US – are reportedly now occupying the ship's cargo, the Shell oil and gas platform. Two other activists, Yeb Saño from the Philippines and Waya Pesik Maweru from Indonesia, attempted to join them but did not manage to board.
Greenpeace releases statements saying the "peaceful protest aims to highlight the worldwide climate devastation caused by Shell and the wider fossil fuel industry." It was timed to come just before Shell reports it year-end results where Greenpeace says the company "will likely face further pressure."
The Agence France-Presse (AFP) is quoting a Greenpeace representative as saying the activists have supplied to last for days.