Australia Thanks Merchant Ships for Key Role in High-Stakes SAR Effort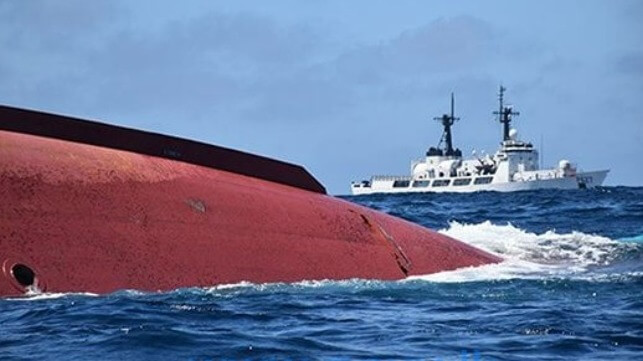 The recent search for the crew of a Chinese ocean-going fishing vessel, the Lu Peng Yuan Yu 028, underscored the crucial role merchant shipping plays in maritime search and rescue.
While the outcome was tragic for the crew, their families and friends, the search highlighted how the seafaring community comes together in challenging circumstances to assist when their fellow seafarers are in peril.
The Australia Maritime Safety Authority (AMSA) coordinated a complex multi-national effort from 16-20 May, working with the Chinese Maritime Rescue Coordination Centre (MRCC), Indian and Sri Lankan search and rescue agencies, and authorities in the Maldives and Diego Garcia.
The search concentrated on an area in the remote Indian Ocean, about 5,000 km northwest of Perth, closer to Sri Lanka than Australia. Initially, conditions were extreme. The presence of Tropical Cyclone Fabian in the area generated 120 km/h winds and seven-meter seas.
The search involved seven merchant ships and a fishing vessel, from six flag states. Bulk carrier Navios Taurus was first on the scene, locating the upturned hull of the fishing vessel within hours of being called in to assist. Unfortunately, no survivors were located at the scene. Bulk carrier Corona Zenith also assisted in the early stages of the search, when conditions were still hazardous.
Over the next three days, four more bulk carriers, Yuan Fu Hai, Ming De, MSXT Athena, SDTR Faith and Swift Hangzhou provided invaluable assistance in searching the ever-expanding area for life rafts or signs of life.
Chinese fishing vessel Lu Peng Yuan Yu 018, a sister ship of the capsized fishing vessel, also played an integral role in the search for the missing crew.
AMSA would like to thank the masters and crews of these vessels for their tireless efforts. The international maritime search and rescue system cannot work effectively without the generous assistance provided by commercial shipping.
Mark Morrow is Executive Director of Response at the Australian Maritime Safety Authority.
The opinions expressed herein are the author's and not necessarily those of The Maritime Executive.