Success for Offshore Project Engineer Bianca Behrmann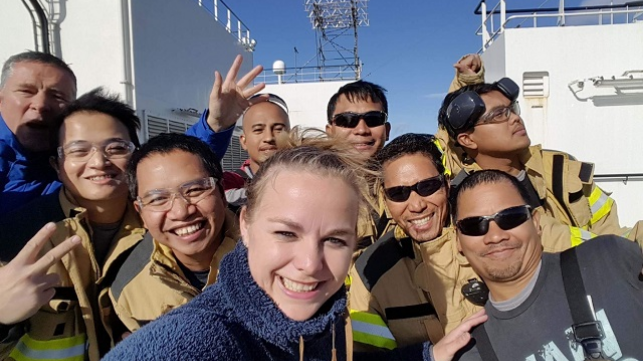 A successful career at sea doesn't necessarily require higher education. Take for example, Bianca Behrmann from Rotterdam, Netherlands. Bianca is a project engineer in the North Sea and has eight years of experience working offshore.
Her first job on the water was as a crew coordinator, in charge of her crew's logistics to and from their vessel. At the time of this writing, Bianca was on a vessel conducting the testing and termination of a cable that was installed by another vessel. Together with her colleagues, she is the proverbial right hand of the Offshore Installation Manager (OIM) to ensure all engineering work is done as promised and on time.
Bianca's career has evolved from sweat, time and hard work. Not having obtained a degree or a marine license, she is proof that a successful career offshore doesn't necessarily require higher education. "I am living proof that you don't need to have a degree to do a certain job. You need someone who has a lot of trust in you and can assist where needed. I'm really enjoying my position and I am learning every day. As long as [marine work] is ongoing, then I'm at the right spot."
Bianca grew up watching her father work a rotation at sea. Had she known then, that she too, would pursue a career on the water, perhaps she would have chosen a slightly different educational path. "My dad always worked at sea so it's not a surprise that I followed him. However, had I known that I would enjoy it so much, I would have become an engineer, and be able to get my hands dirty in the engine room."
There are many aspects of working offshore that Bianca enjoys."What I really enjoy about working offshore is that you meet a lot of new people and, most of the time, you see them back on other projects." For Bianca, there is also a sense of freedom in working on the water. "Sunrises and sunsets are also one of my favorite things, it's called freedom for me, to look as far as possible and only see water."
Bianca is motivated to work offshore, long-term, despite the challenges she may face starting a family. "I feel free at sea! I don't want to think about the day that I have to go back onshore or make the decision [to start a family]. For now, I'm going to stay [at sea] and enjoy every single minute of it! I know if I want to have children and have a partner who also works offshore, there might come a day that I may have to postpone, or even stop working at sea completely. However, for now, I'm staying right here!"
To get through the challenges of working a rotation at sea, Bianca recommends having a strong support system shoreside. "I'm thankful for the great friendships that I have at home. Being away from home is not always easy. Yet, knowing that great people are waiting for you [to return], then it is a bit easier to be offshore."
Women Offshore wishes Bianca smooth sailing as she makes waves in the industry. We look forward to following her career and writing about her again when she moves up the ladder in North Sea operations.
Source: WomenOffshore.org
The opinions expressed herein are the author's and not necessarily those of The Maritime Executive.