Video: U.S. Navy LCAC Makes Surprise Landing Near Myrtle Beach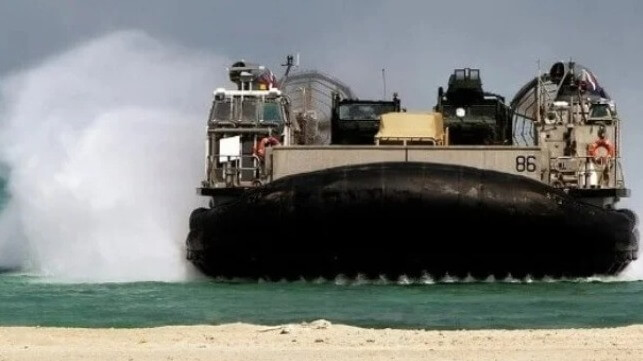 Local residents and media outlets were surprised to see a U.S. Navy Landing Craft Air Cushion (LCAC) come ashore on a public beach in Cherry Grove, South Carolina on Thursday morning.
The deafening arrival of a 180-ton, turbine-powered hovercraft surprised onlookers as the LCAC transited slowly through the surf zone and turned at an angle to the beach. Photos taken after its arrival show its forward ramp lowered for cargo operations and a small skiploader leveling the sand in front. Police lines appear to have been set up later, after the craft startled beachgoers with its sudden appearance.
LCACs have limited range and are designed to deploy with U.S. Navy well-deck amphibs, like the Harpers Ferry-class USS Carter Hall. The Hall is currently leading the search for debris from a downed Chinese spy balloon at a position approximately six miles southeast of Cherry Grove. The LCAC in question is LCAC-86, which operated with USS Carter Hall as recently as 2016.
[Updated] U.S. officials have confirmed that the LCAC landing was related to the Carter Hall's search.
LOOK: A Navy vessel came ashore Thursday morning in the Cherry Grove area of North Myrtle Beach. https://t.co/1dFvwEQmlN pic.twitter.com/2ZKytenSak

— WBTW News13 (@WBTWNews13) February 9, 2023
Spy balloon characteristics
The Biden administration has begun releasing detailed information about the characteristics of the surveillance balloon shot down over South Carolina's coastal waters last weekend. While it was aloft, high-flying U.S. Air Force U-2 spy planes passed above it and used powerful cameras to capture imagery of its equipment. Its design suggests that it was capable of "collecting and geolocating" signals from U.S. communications and radar systems. It was also fitted with cameras for high-resolution imaging of ground installations, and enough solar panels to power "multiple active intelligence collection sensors."
The U.S. government believes that China's military operates a fleet of similar balloons, and has conducted similar flyovers on five continents - including at least four previous incursions into U.S. airspace.
"We know that they were looking to surveil strategic sites, to include some of our strategic bases in the continental United States," confirmed Brig. Gen. Pat Ryder, Pentagon press secretary, in comments to the press Thursday.
As officials deliberate on the best response to the incursion, amphib USS Carter Hall is leading a Navy / Coast Guard task force to recover as many pieces of the device as possible from the water. Carter Hall headed back to port in Norfolk on Thursday with the first results of the search, according to USNI, and will return to the site later. Meanwhile, the chartered OSV HOS Rosebud has departed Norfolk to join the operation, bringing more subsea salvage capabilities to the scene.
A Navy EOD team recovered the balloon's canopy and some structural elements shortly after it was shot down, but the majority of its sensitive components are scattered over a large area of the seafloor in shallow water. The FBI told USA Today that the salvage teams are still "very early in the process" of recovering the pieces.