U.S. Coast Guard Delivers $186 Million Worth of Cocaine to Miami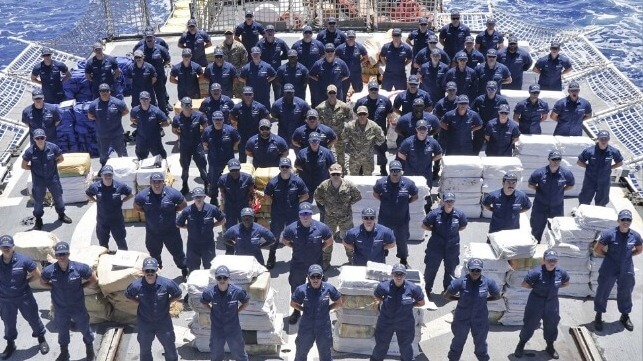 On Friday, a shipment of than 14,000 pounds of cocaine was delivered to a dock in Miami - not for sale and consumption in the city's bustling nightclubs, but for impoundment and destruction. The crew of the Coast Guard Cutter Bear offloaded the $186 million consignment at a secure pier, and it is among the larger hauls delivered to Florida in recent memory.
The offloaded drugs were interdicted during nine different cases in the waters of the Caribbean Sea and the Atlantic Ocean. The crews of eight different units contributed to the seizures, including USCGC Bear, USCGC Donald Horsley, a helicopter-borne sniper (HITRON) squadron, two USCG tactical boarding teams, and a patrol plane out of Air Station Borinquen. The U.S. Navy LCS USS Little Rock and a U.S. Customs and Border Patrol aircrew also contributed.
"The contraband offloaded today represents the professional expertise and dedication of U.S. defense and law enforcement agencies working together to combat the flow of illicit drugs through the Caribbean Region into the United States," said Lt. Peter Hutchison, duty enforcement officer at Coast Guard District Seven. "This teamwork is imperative to the identification, interception, and seizure of vessels engaged in illicit trafficking and a testament to the hard work of these crews."
12 operational-level smugglers were apprehended will be prosecuted by the Department of Justice.
Detecting and interdicting illegal drug traffickers is an international effort. The Joint Interagency Task Force South in Key West, Florida manages the detection process and passes off targest to the Coast Guard. Interdictions in the Caribbean are performed by under the direction of Seventh District in Miami, and in the Eastern Pacific, 11th District has command. In all cases, including intercepts facilitated by U.S. Navy and foreign-partner platforms, Coast Guard law enforcement teams conduct the boardings.
In FY2019, the Coast Guard seized 208 metric tonnes of cocaine, more than any other agency. At current wholesale pricing, this would be worth $6 billion - enough to cover the payroll for all USCG military servicemembers in FY2024.