Sri Lanka Opposes IMO Proposal to Reduce Whale Strikes in TSS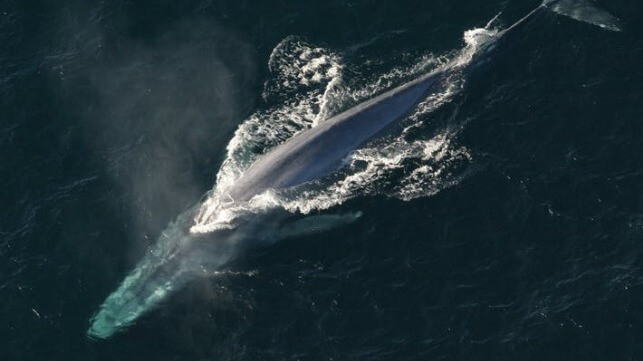 This week, IMO MEPC agreed to consider a proposal to move a busy traffic separation scheme out of Sri Lanka's territorial waters, despite Sri Lankan objections. The plan to move the TSS is intended to benefit endangered blue whales, which are attracted to the existing TSS area to feed on plankton - and are all too often hit by passing ships.
The area just south of Sri Lanka is among the busiest maritime thoroughfares in the world. This TSS sits midway between Malacca and Bab el-Mandeb, and it sees more than 100 merchant ship transits per day. This traffic passes through an area of coastal upwelling, which produces a natural abundance of food for baleen whales (and an abundance of fish for Sri Lankan fishermen). The whales congregate near the surface to feed, and recovery of carcasses on shore and at sea suggests that a substantial number are dying from interaction with ships' propellers and hulls. At least 14 large whales were killed by ship strikes and recovered from the shore in this area in 2010-14, according to a study published in 2017.
The good news, according to the International Whaling Commission (IWC), is that 95 percent of these whale fatalities could be avoided by moving the TSS 15 nautical miles to the south, out of the upwelling and out of Sri Lankan waters. The idea is popular with conservation groups, and - importantly - it also has the backing of every major shipping association, including ICS, BIMCO, INTERTANKO, CLIA, INTERCARGO, IPTA, IFAW and WSC. The world's largest container line, MSC, has already gone ahead and instituted a slowdown / avoid policy for the area, essentially implementing the new TSS proposal on its own.
In 2016, the International Whaling Commission endorsed the TSS proposal and called for Sri Lanka to bring it to the IMO. However, Sri Lanka's government denies that there is a problem with whale strikes in the existing TSS, and attributes the whale mortalities to other causes. After nine years, at IMO MEPC 80, the International Whaling Commission introduced its own plan to move the TSS out of Sri Lankan waters without the nation's endorsement.
The proposal swiftly ran into protests from the Sri Lankan delegation. "Whale stranding records of the Government of Sri Lanka reveal that most of the carcasses were in the late stages of decay, which indicated that the mortality may have taken place far away from the Sri Lankan coast but washed ashore in Sri Lanka," Sri Lankan navigation director Capt. Upul Peiris said, according to PTI.
At MEPC, Sri Lanka had the support of delegates from China and India, which both have strategic interests in Sri Lanka and its maritime commerce. India depends on Sri Lanka's Port of Colombo for transshipment, and a Chinese operator runs Port of Hambantota, located on the island's southernmost tip. Both China and India called for IMO to consult with Sri Lanka on any change affecting its territorial seas, and to avoid infringing on its sovereignty, according to PTI.
Impact on whales aside, keeping the TSS in its current location is in Sri Lanka's economic interests, according to analyst Ayesh Ranawaka: it brings ships closer to Sri Lankan ports. The proximity would be particularly useful if a way could be found to attract ships to the port of Hambantota, an underperforming greenfield project next to the TSS. Though conveniently located, it is little-used, and its traffic is largely limited to ro/ro transshipment operations at a defunct container terminal in the harbor. If Hambantota is to succeed commercially in years to come, its location on the shipping lane will be among its primary selling points. Any additional distance away from the TSS would reduce its attractiveness for the shipping industry, Ranawaka told Mongabay.