New Cruise Terminal for Canaveral Port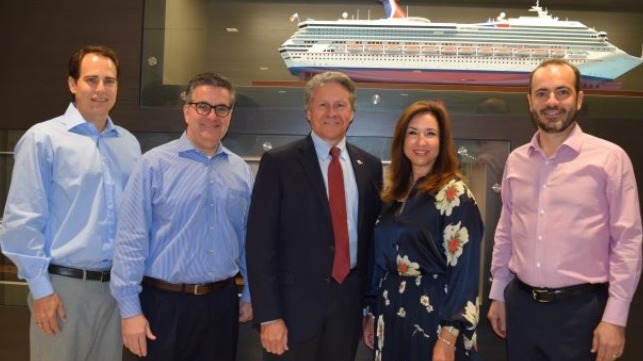 The Canaveral Port Authority and Carnival Cruise Line have reached an agreement in principle on a new state-of-the-art terminal able to accommodate Carnival's new yet-to-be-named 180,000-ton ship, the largest ever constructed for the line, set to debut in 2020. The vessel will be the first North American-based cruise ship to be powered by LNG.
Carnival Cruise Line currently has three year-round ships based in Port Canaveral carrying upwards of 650,000 passengers a year. In October, Carnival Cruise Line will also reposition the newer Carnival Breeze to homeport at Port Canaveral.
Christine Duffy, president of Carnival Cruise Line, Port Canaveral's number one cruise operator, said: "Easily accessible from all over the southeast with excellent facilities and friendly staff, Port Canaveral is one of our most popular and fastest-growing homeports."
Construction of the 180,000-ton new ship is scheduled to begin in November 2018 with the official steel-cutting ceremony at the Meyer-Werft shipyard in Turku, Finland. Further ship details, along with itineraries from Port Canaveral, are expected to be announced in 2019.
Earlier this month, Moody's Investors Service rated Canaveral Port Authority 'A2 Stable' in its annual Credit Opinion. The Moody's bond rating opinion acknowledged the Port's healthy financial metrics, established competitive position as a cruise port and revenue diversity from cargo operations. Moody's reported that the Port's Fiscal Year 2018 through 2022 foresees capital improvement expenditures of around $422 million. The capital plan will be funded from a combination of operating cash flow, existing reserves and new debt issuances.